We all have favorite childhood memories, stories, books, and television shows. If you were a child in Baltimore, Columbia, or the surrounding region during the late 1980s or 1990s, one of your favorite TV shows may have been "It's Kindertime" or "The Kinderman Show." The show featured music, dance, singing and chanting, and activities for kids that engaged them in learning while also encouraging them to move and have fun. Education and entertainment were synonymous in "The Kinderman" television shows, workshops, and events.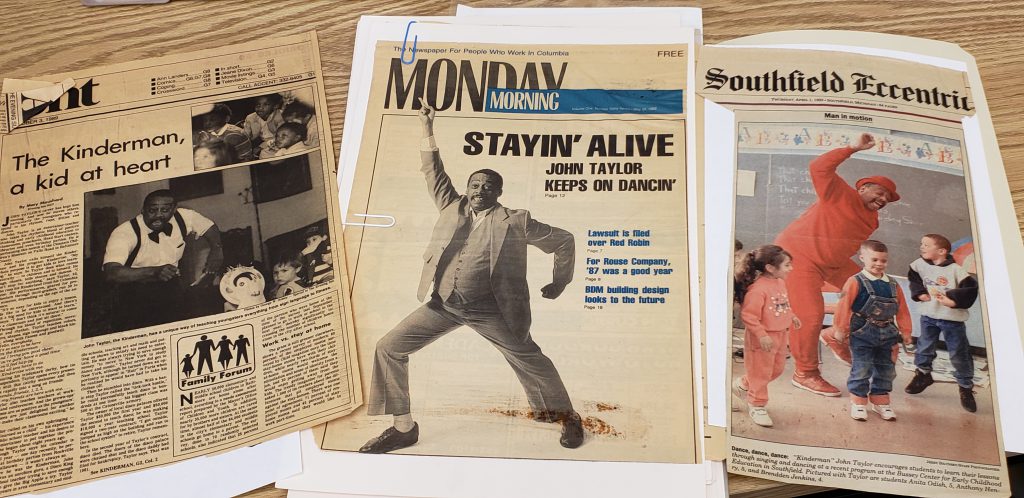 The John "Kinderman" Taylor Papers were donated and arrived at the UB Special Collections & Archives this past summer in August 2018. This collection largely tells the story of a local children's television star and educator while providing insight into the activities and tools he used, but it also tells us about the man behind "The Kinderman." John Taylor was an educator, artist, and local African American entrepreneur who learned to reinvent himself and his art throughout his career. Taylor was also connected to the Cultural Arts Program in Baltimore.
As someone who did not grow up in Baltimore, learning about John Taylor's story while processing his archival collection has been interesting and fun. I was amazed by "The Kinderman's" many awards and achievements. Taylor's collection includes his 1997 Capital Region Emmy Award; his Operation Breathrough, Inc. Head Start Certificate of Appreciation; The Wolf Trap Institute for Early Learning Through the Arts Certificate of Appreciation; a Baltimore Teachers Union Appreciation Award; and a number of certificates and letters from Maryland officials including Barabara A. Mikulski, Sheila Dixon, Martin O'Malley, Councilwoman Sharon G. Middleton, and a Congressional Achievement Award from Congressman Elijah E. Cummings.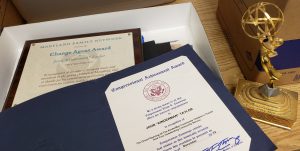 Though this is a small collection, the educational curriculum materials which Taylor used throughout his career make up a large portion of the materials. The kits and activities provide unique insight into Taylor's commitment to dance, music, and education for children. There are also a number of audiovisual materials in the collection that are part of the activities and kits such as "KinderCise" and other educational activities for kids.
John Taylor was born and raised in Baltimore, Maryland. As a child, he excelled in dance troupes, and eventually he went to New York to pursue dance as a career. When he returned to Maryland, Taylor earned a bachelor's degree at Morgan State University and a master's degree in art education from the Maryland Institute College of Art. In the 1950s, Taylor began teaching in the Baltimore County and Anne Arundel County school systems. His teaching career spanned 18 years.
In the 1970s, he left his teaching career in the school system and returned to music and dance. He began his own business: The John Taylor Experience, where he taught disco dances like the Bump and the Hustle. Later he taught dance aerobics. In 1987 Taylor began focusing on teaching music and dance to children. He eventually became "The Kinderman."
Throughout the 1990s, Taylor was a popular children's television star in Baltimore and around the region. He was a Master Teaching Artist, affiliated with the Wolf Trap Institute for Early Learning Through the Arts. As "The Kinderman," Taylor became a local celebrity. He appeared on WJZ-TV with Oprah Winfrey and Richard Scherr on the television show "People Are Talking." Taylor's show on WMAR-TV, "It's Kindertime," ran for six years and was a three-time National Capital Region Emmy Award winner. After its run, the station aired "The Kinderman Show." He continued performing for decades at malls, festivals, schools, and other events including Artscape in Baltimore, until his death in 2018.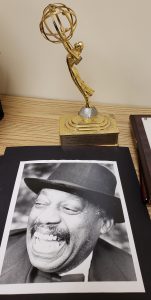 The John "Kinderman" Taylor Papers document the work and local impact of an artist, dancer, and educator. The collection includes letters from fans and former students, clippings, photographs, awards, educational kits, and ephemera that document his work, and his involvement in the arts and the local community over the years. Researchers interested in local Baltimore history, African American entrepreneurship, Baltimore black history, children's education, integrated arts, cultural arts in Baltimore and the surrounding region, the Great Society, or the local War on Poverty, will enjoy looking through the John "Kinderman" Taylor Papers.
If you would like to view and/or use the John "Kinderman" Taylor Papers for yourself, please contact the Special Collections & Archives to set up an appointment!