This is the second blog post in a two part series about processing the Eva Anderson's Baltimore Dance Theater Collection!
If you'd like to read the first blog post in this two part series, please click here!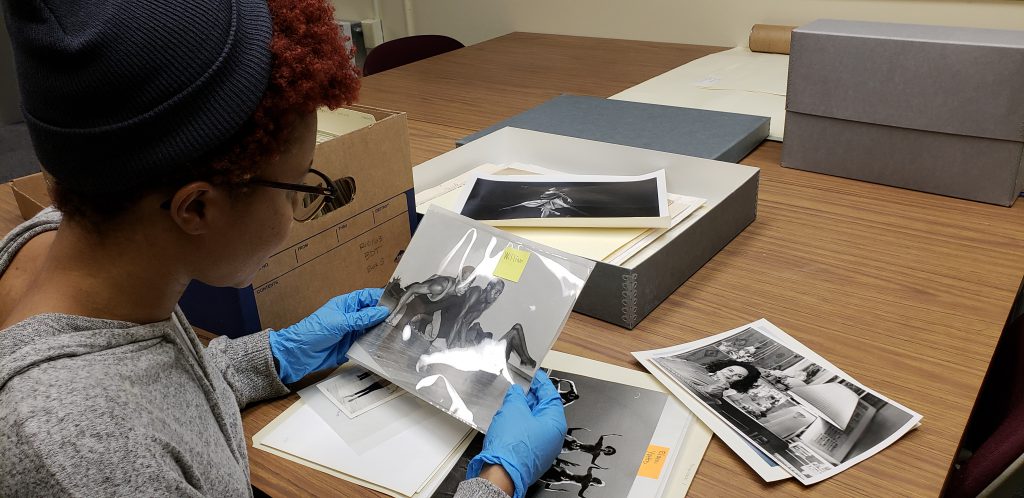 Whether it's when we teach primary source instruction sessions in classes, when we plan outreach community programs, or when we host internships, volunteer experiences, and student workers' projects, the Special Collections & Archives can facilitate a variety of different learning experiences. Partnering with students in their learning during college and graduate school is one of the most fulfilling parts of working in the Archives.
Internships are a chance for students to make the archive their classroom for a time. Interns, student workers, and volunteers have contributed to a variety of projects over the years here, including working with the collections database and processing archival collections. Teaching others about the work we do in archives and helping them use our collections for their projects is truly a fun part of any archivist's job, and often both intern and archivist learn something new!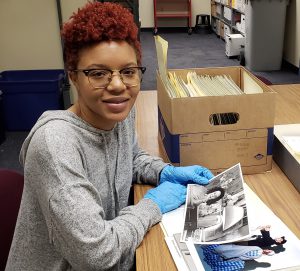 Over the past few months, Deyane Moses, a student at the Maryland Institute College of Art (MICA), has been an intern working on an exciting project at the Special Collections & Archives. Deyane is a senior photography major with a curatorial studies concentration at MICA who has goals of working in a museum setting someday. She came to the archives at the beginning of the fall 2018 semester hoping to learn more about collections management and building archival exhibits.Her goal for her internship with the Special Collections and Archives was to gain experience working with an archival collection and then plan an exhibit using it. The internship quickly centered on the Eva Anderson's Baltimore Dance Theater Collection.
This particular collection focuses on a well-known member of the arts community in Baltimore. Eva Anderson (b. 1933 – d. 2017) was the director of the Baltimore Dance Theater for over 30 years. She taught countless students, choreographed and planned numerous performances, and had a lasting impact in Baltimore and Maryland. The archival collection provides a window into the history of dance and the arts in Baltimore.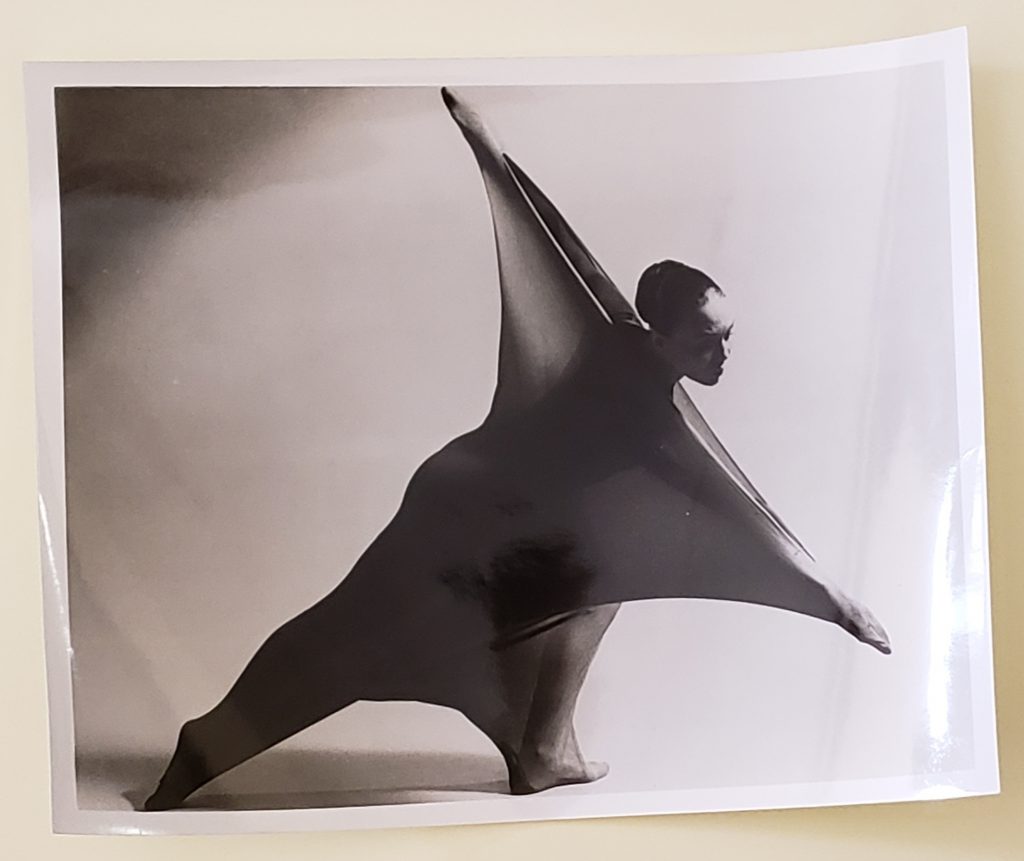 When the collection was accessioned and arrived at the archive in 2017, it consisted of 15 boxes and one oversize portfolio. Nine full boxes contained audiovisual materials, and several boxes housed documents including correspondence, clippings, photographs, scrapbooks, and other records. The oversize folder was full of wonderful (but difficult to access) posters and performance advertisements! The materials were in good condition and contained a multitude of information about Eva Anderson's work with the Baltimore Dance Theater during her thirty-plus years as its director; but, the collection was not very easy to search through. There was also a limited amount of information available in the early version of the online finding aid, which meant researchers did not yet have access to an inventory of materials in the collection or other details about it. But, processing a collection can make it completely accessible to researchers!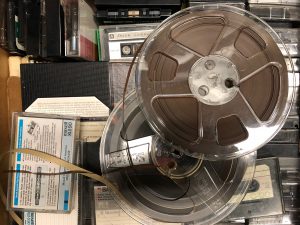 The first part of Deyane's project focused on learning about one aspect of collections management: processing archival collections. As the processing archivist here in the Special Collections & Archives, I was excited to have an intern interested in learning and working on a collection. After some 'Archives 101' training, Deyane enthusiastically jumped into the project.
In previous internships, Deyane had gained some experience working with archival materials, but this was her first time learning about processing collections.
"I had done some cataloging where I input large amounts of data about artifacts into a spreadsheet. However, I never processed a collection to this extent [before]," Deyane explained.
Deyane carefully inventoried and rehoused each DVD, U-matic tape, audio cassette, VHS tape, open reel recording, and document folder in the collection. She also documented preservation issues and other valuable notes that the archive will be able to use to manage the collection. During this step, I also enlisted Deyane's help as we organized and housed the many photographs and scrapbook materials in the collection to ensure that they would be preserved for future researchers. Deyane was both interested and eager to learn how to carefully store photographs and other delicate materials for preservation while also making sure they could be easily accessed by archives patrons.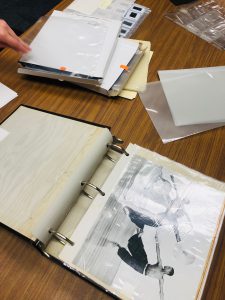 This turned out to be Deyane's favorite part of processing the collection. She really enjoyed handling, rehousing, and viewing the audiovisual and photographic material.
"The proper handling and housing of artifacts is very important to ensuring the collection's longevity," Deyane said. "It was also nice to finally meet Eva through the audiovisual materials."
For Deyane, processing has taught her more about the work of archivists and the effort that goes into making a collection available for research. She explained that during visits to different archives, reference archivists helped her locate and find information by pulling relevant materials from the stacks for her. She didn't have to 'dig' to find the information or collections she needed. By processing a collection, Deyane got to see how the physical and intellectual organization of a collection works. She enjoyed learning about all of the steps that go into the back-end of making a collection accessible.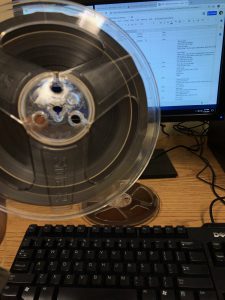 "The most interesting thing I learned while processing was the way in which archivist organize collections," Deyane explained. An archivist has to "think about the collection as a whole rather than just dates."
Deyane also saw that archivists can't be researchers. "They organize the collection, but don't interpret the material," Deyane explained. That's the researcher's job. (But, don't get me wrong, archivists all often want to delve in and read every single page in a collection, but I restrain myself!)
After Deyane finished the detailed inventory and we completed preservation tasks for the collection, I was be able to finish the arrangement and description (organization) of the collection and write an online finding aid. Deyane's work was a valuable first step in processing the collection!  As I finished up, she was able to begin part two of her internship: planning an exhibit focused on Eva Anderson and the Baltimore Dance Theater.
For the remainder of her internship, which continues this spring in 2019, Deyane will work with Archives Technician Angela Rodgers-Koukoui to plan and curate a physical exhibit featuring Eva Anderson and the Baltimore Dance Theater. Deyane will also work on a digital version of the exhibit.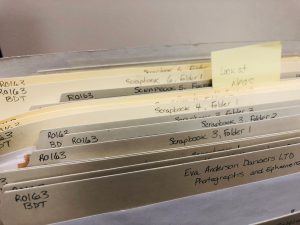 For Deyane, learning about archival processing has been a valuable step toward creating the exhibit.
"Processing the collection has made it easier for me to find artifacts and information for the exhibit. It's amazing what a thank you letter or arts application can tell you about an organization or person."
Deyane's internship is focused on creating access to an archival collection. By processing the materials and by creating exhibits, Deyane is making it possible for people to learn about and utilize the materials in the collection. As a result, researchers and community members will have many opportunities to learn about the history of Eva Anderson and her work with the Baltimore Dance Theater in the region.
If you would like to view and/or use the Eva Anderson's Baltimore Dance Theater Collection for yourself, please contact the Special Collections & Archives to set up an appointment!