In archives and libraries "the stacks" refers to the many resources held by a repository for students and researchers to use. Librarians, archivists, academic tutors, and others work hard to preserve and make these resources and collections accessible and to create a welcoming environment for students and researchers. As the year progresses, A Look Behind the Stacks continues highlighting the people and work behind the UB RLB Library and the Special Collections & Archives. Follow our blog to Meet the Library and to learn more about our library work behind the stacks!
We're excited to introduce Sharon Petty, Tutoring Coordinator in Academic Success at the RLB Library! We hope you enjoy learning about Sharon in her own words in her new blog post:
Name: Sharon Petty, Tutoring Coordinator for Academic Success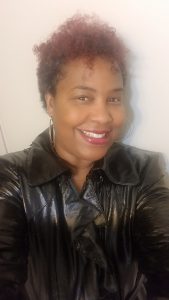 Tell us about yourself:
Thank you so much for checking out my blog post. I am new at blogging so here goes my first attempt. My name is Sharon Denise Petty and I am from Catonsville, Maryland. I am a mother of two children, a twenty-year-old college student and a beautiful sixteen-year-old daughter in her second year of high school. They are my greatest accomplishment next to being an educator to many students in my twenty-six years of being in the educational field. I love watching the Hallmark channel until I fall asleep, cooking new recipes and I enjoy watching basketball. In addition, I am a true fan of LeBron James and desire to one day sit courtside to watch him play in a basketball game.
I am 52 years old this year and that has created my drive to do so many things on my bucket list. I have always enjoyed working in Higher Education because no day is ever the same. I love to think outside-the-box when it comes to event planning and encouraging students to succeed in their educational goals. So, I consider myself a very creative person, quirky at times, and I laugh often as I can.
Tells us about your work at RLB Library:
I create a sense of camaraderie with my coworkers and enjoy working with all of them at the RLB Library. My role here at UB is as a Tutoring Manager which includes making sure that all tutors and coaches are getting CRLA (College Reading Language Association) professional development. I also oversee the daily operation of the tutoring and coaching services for UB undergrad and graduate students. Last school year marked the start of a new location of the tutoring lounge and other amazing resources available to serve our UB students in the RLB Library. During the upcoming fall 2020 semester we will have a robust offering of tutoring and coaching academic services available online for our UB students.
Remember that you are the author of your story and life's journey!
This blog post was written by Sharon Petty, Tutoring Coordinator. Please reach out to her at spetty@ubalt.edu with any questions regarding tutoring services at the RLB Library!
If you're interested in tutoring, workshops, or academic coaching, check out Academic Success in the RLB Library and learn how they can support you!