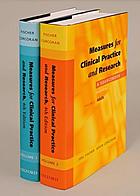 Measures for Clinical Practice and Research solves a persistent problem for students in research methods classes in fields like psychology: how do you obtain a copy of one of test instruments that researchers use to perform original experimental research?
Test instruments (otherwise known as test measures, scales, surveys, or questionnaires) have always been hard for students to obtain. Most researchers publish them through private companies that set a high price on them. Students can easily find the results of empirical research by searching for journal articles in library databases like PsycINFO but that doesn't give them the actual test instruments that the researchers used.
Measures for Clinical Practice and Research is a 2-volume set of books at the Langsdale Library. It gives examples of hundreds of test instruments that students can use for research or class work. Problem solved!
Measures for Clinical Practice and Research is available in the Reference section on the 1st floor of the Langsdale Library, call number: BF176 .C66 2007. You can also preview the book at Google Books.