Did you know that Langsdale Library offers a list of all of our newest materials? We do! Each month we'll post an update letting you know about a few select titles, but there are far too many to mention here so be sure to check out our comprehensive online
list
. There is an RSS feed to the list, so you can subscribe and be updated when new materials get listed each month.
New Materials at Langsdale: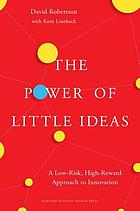 "Conventional wisdom today says that to survive, companies must move beyond incremental, sustaining innovation and invest in some form of radical innovation. "Disrupt yourself or be disrupted!" is the relentless message company leaders hear. The Power of Little Ideas argues there's a "third way" that is neither sustaining nor disruptive. This low-risk, high-reward strategy is an approach to innovation that all

company leaders should understand so that they recognize it when their competitors practice it, and apply it when it will give them a competitive advantage."

"Privilege is about more than being white, wealthy, and male-as Michael Kimmel, Abby Ferber, and a range of contributors make clear in this timely anthology. In an era when "diversity" is too often shorthand for "of color" and/or "female," the personal and analytical essays in this collection explore the multifaceted nature of social location and consider how gender, class, race, sexual orientation, (dis)ability."

"TV analysts and money managers would have you believe your finances are enormously complicated, and if you don't follow their guidance, you'll end up in the poorhouse. They're wrong. When University of Chicago professor Harold Pollack interviewed Helaine Olen, a financial journalist, he made an offhand suggestion: everything you need to know about managing your money could fit on an index card. To prove his point, he grabbed a 4″ x 6″ card, scribbled down a list of rules, and posted a picture of the card online."

These are just a few of the many new books, movies, and games at your Langsdale Library. To see the complete listing of new materials check out our list right

here

! If you want to receive updates when new materials get listed each month, you can subscribe to the list through the RSS feed.