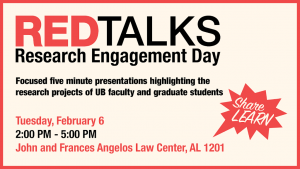 RED Talks, Research Engagement Day, is next Tuesday and Langsdale can't wait to celebrate the research and creative works of UB's faculty and graduate students!
RED Talks is an opportunity for faculty and graduate students to share their research with the UB Community through highly-focused 5 minute presentations. The program is now available online so you can learn more about their presentations and pick and choose which you want to attend.
We encourage you to stay for all!