Attending and presenting at conferences is part of academic life. Professionals in higher education share their research and intellectual interests with communities of peers at local, regional, national, or international meetings of disciplinary organizations. A conference presentation is an important addition to one's curriculum vitae because it shows engagement in an academic community of practice, but it can be difficult to get one's foot in the door and get that first presentation notch in the old academic belt.
Writing Centers, like any other academic discipline, share ideas and practices via a network of regional organizations affiliated with the International Writing Center Association (IWCA). Our regional affiliate is called the Mid-Atlantic Writing Center Association, or MAWCA, and our regional conference happened over the weekend of March 24, 2018. The theme of the conference was "Activism in the Writing Center: Uncovering Hidden Narratives," and five members of the UB Writing Center community submitted proposals and were accepted to present at this conference, which took place at Rowan University in Glassboro, NJ.
In order to help pay for UB students to travel to the conference, the Writing Center hosted a crowd-sourced fundraiser, to which several members of the UB community donated. For that, we are very grateful. The fundraiser generated enough money to pay for the group's hotel room and travel, and the remainder of the costs were covered by the MAWCA scholarship program, for which the UB panel applied and were the sole recipients.
The presenters included Kerrin Smith, an MFA candidate in UB's Creative Writing and Publishing Arts program and a longtime Writing Consultant in the UB Writing Center. Her project included an IRB-approved survey of students in the Writing Fellows program and was titled "Bridging the Gap Years: Non-Traditional Students in the Writing Center." For Smith, the project represented a significant professional development opportunity. She said, "Attending this year's MAWCA conference was a tremendous opportunity to become a better tutor by listening to experts, especially keynote speakers Dr. Vershawn Ashanti Young and Dr. Frankie Condon."
The other presenters participated in a common panel discussion about working with diverse learners in the Writing Center. Our work grew out of a conversation about the gap between Writing Center theory and praxis, and our panel was titled "Minding the Gap: Exploring the Spaces between Language, Identity, and Culture." The presenters included:
Sharea Harris, a graduate of UB's MFA program, former Writing Consultant and Interim Director of the Writing Center, and current adjunct faculty in the Writing Program. Professor Harris' talk was titled "Black Tongues on their Way to Whiteness: Redefining Academic Identity in the Writing Center."
Jodie Fair, a candidate in UB's MFA program and current Writing Consultant. Jodie's presentation was titled "A Socially Diverse Composition."
Lauren Campbell, a candidate in UB's MFA program and current Writing Consultant. Lauren's paper was titled "Negotiating Control: Empowering Students with Transparency, Collaboration, and Transfer Theory."
Mairin Barney, the Writing Services Coordinator for the Achievement and Learning Center and the director of the UB Writing Center. My talk was called "Academic Precarity and the Danger of Being Written Off: Building Solidarity in the Writing Center."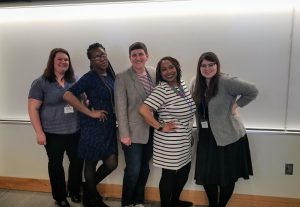 From left to right: Lauren Campbell, Jodie Fair, Mairin Barney, Sharea Harris, and Kerrin Smith
at Rowan University just after our presentations were completed.
For the three graduate students involved, MAWCA 2018 was their first conference experience, and their initial takeaways demonstrate how valuable an opportunity this was for them. Campbell said, "MAWCA was my first conference experience, and I learned so much through the conference sessions and by conducting my own research." Fair agreed, saying, "Attending MAWCA was one of my most rewarding experiences as a graduate student at UB. The opportunity to present provided me a sense of pride that my contributions as both a scholar and writer matter." Smith added, "The conference's theme of activism allowed me to examine the ways I might be perpetuating racism and classism in my sessions with students, and reflect on how to resist that cycle."
Ultimately, sharing ideas among participants in a community of practice is at the heart of academic work, so this conference was more than merely a professional development exercise. For graduate students imagining their careers in higher education, presenting at MAWCA allowed them to add something meaningful to our professional dialog and get a feel for intellectual labor. I have a good feeling that this first conference will not be their last.