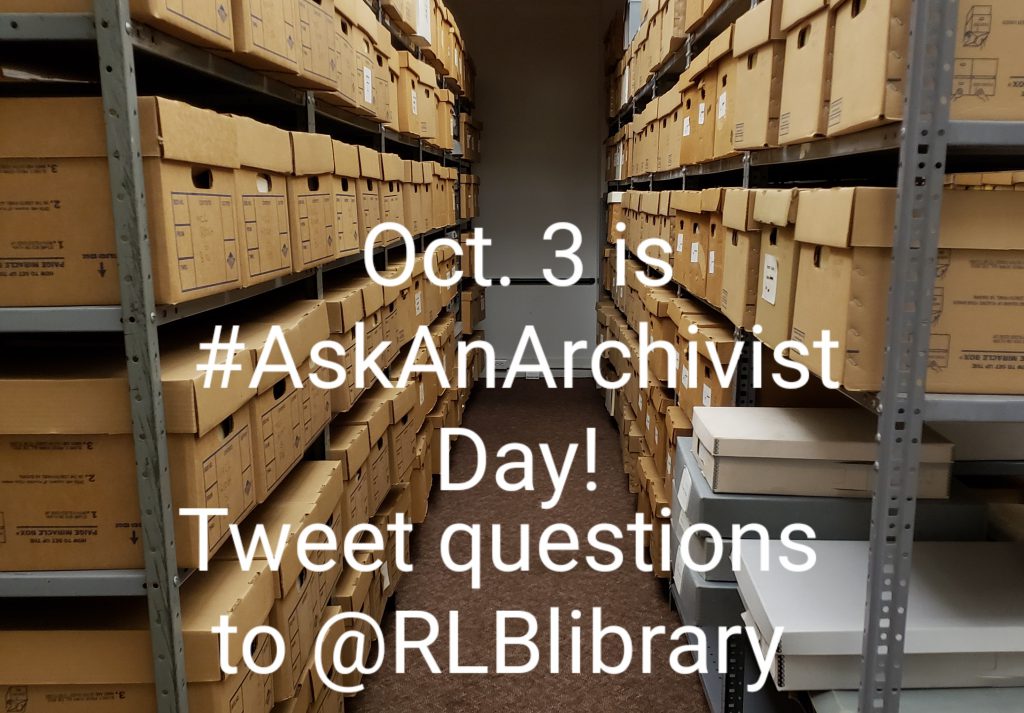 October is American Archives Month and October 3, 2018 is #AskAnArchivist Day!
Archivists nation-wide will be on Twitter answering your questions about archives and archivists! This is a one-day event, sponsored by the Society of American Archivists. Archivists have stories and information to share about the work they do every day to preserve and provide access to the amazing documents, photographs, audiovisual materials, and artifacts in their collections. This is a chance to connect directly with archives in your community and around the country.
Here at the Special Collections & Archives at UB we collect, preserve, and provide access to archival materials in all formats to support the research needs of students, scholars, and the public. We are committed to the local community and our goal is to make our unique resources on the history of modern Baltimore available. Our archivists work with special collections and make them accessible online through finding aids so that they can be used by researchers like you!
So do you have a question about what archivists do or how archives work? Do you wonder what archivists do for fun or how you can use archival collections in your class work? Are you interested in learning more about visiting the archives? No question is too silly and no question is too practical! Ask us anything!
How does it work?
#AskAnArchivist Day is open to everyone—all you need is a Twitter account!
To participate on October 3, 2018, just tweet a question about archives, special collections, or archivists and include the hashtag #AskAnArchivist in your tweet. An archivist participating on Twitter will get back to you!
Ask archivists from the Special Collections & Archives here at UB specific questions by including our Twitter handle @RLBlibrary and #AskAnArchivist with your question!  We will be monitoring Twitter all day on Oct. 3 and are looking forward to your thoughts and questions!
Search Twitter for #AskAnArchivist on Oct. 3 and follow along as questions and answers are shared. Archivists from universities, museums, historical societies, and other organizations are taking to Twitter to answer your questions all day on October 3 for #AskAnArchivist Day!