In archives and libraries "the stacks" refers to the many archival collections, books, and resources held by the repository for students and researchers to use. Archivists, librarians, and others work hard to preserve and make these resources accessible and to create a welcoming environment for students and researchers. A Look Behind the Stacks is a series highlighting UB Special Collections & Archives staff, students, interns, and partners from other departments in the RLB Library and in UB who all help make our work possible. Follow our blog to meet us and to learn more about what we all do behind the stacks!
For our January 2019 post of the A Look Behind the Stacks series, meet Aiden Faust!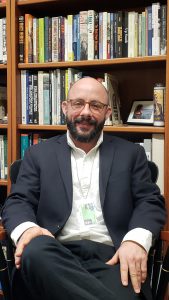 Title and Role:  My title is Head of Special Collections & Archives, and my job is to run the archival program at UB, which includes both institutional records and local history materials. I'm privileged to work with a committed team of talented archivists who make this work possible.
Educational Background: As an undergrad, I studied interdisciplinary liberal arts, and earned a degree in American Studies and focusing on political theory. As a grad student, I earned dual degrees in information science and history, focusing on archives and public history, respectively.
Previous Experience: I began working at the UB Special Collections & Archives over a decade ago as a part-time project archivist. My role in the archives has evolved over the years, giving me the chance to work in digital collections, archives reference, collection development, and program management. All of this work supports the mission of the archives, which is why I'm here.  We're a mission-driven department, which makes the work meaningful.
Favorite Collection or Item in the Special Collections & Archives: This is an impossible question, because there are so many potential answers! The very first collections that sparked my interest were the oral histories—particularly the Baltimore Neighborhood Heritage collection and the Baltimore Voices Company collection. I went on to conduct my own project, the Station North Oral History collection, which also became part of the archives. My attention later shifted to photography, particularly the Robert Breck Chapman collection and the Model Urban Neighborhood Demonstration photographs. That was where my interests started, and they've continued to broaden and deepen with time. There are always new things to fall in love with in these collections, and I am always learning.
Current Project: In addition to supporting the work of archives staff, my own work has focused on collection development. I'm honored to work with donors who give their records to the archives for preservation and research use. Making appraisal decisions about historical records and building the archives according to our collection development policy is work that I've been trained to do and greatly enjoy.
Favorite Experience with the Special Collections & Archives:  If archives enter the popular imagination at all, it's as vast warehouses or dusty subterranean spaces with tons of stuff. But to me, archives are active sites of engagement with our ideas about the past. We teach and learn and interpret and ask questions here, and we support the work of others who are doing the same. As much as I love the collections, what stands out to me are the people—researchers, interns, student assistants, donors, and colleagues—and how the archives reflect our collective activities over time.
What have you learned while working here: Managing the department's Baltimore Regional Studies Archives has permanently changed the way I see the city—past, present, and future. For me, the study of Baltimore's history is a vehicle for understanding what's happening here now. And I'm constantly learning new things about this city, through the people and the collections associated with the archives.  For example, recently I've been looking for documents about the history of Curtis Bay, while working with researchers, activists, and high school students from that community. It's a powerful synthesis of information, and a deeply meaningful way to learn.