In archives and libraries "the stacks" refers to the many archival collections, books, and resources held by the repository for students and researchers to use. Archivists, librarians, and others work hard to preserve and make these resources accessible and to create a welcoming environment for students and researchers. A Look Behind the Stacks is a series highlighting UB Special Collections & Archives staff, students, interns, and partners from other departments in the RLB Library and in UB who all help make our work possible. Follow our blog to meet us and to learn more about what we all do behind the stacks!
For our March 2019 post of the A Look Behind the Stacks series, meet Angela Koukoui!
Title and Role: I am the Archives Technician in the Special Collections & Archives. I'm responsible for public services, managing the research room, reference, and community outreach projects.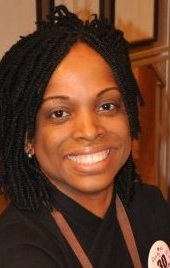 Educational Background: I am currently studying Integrated Arts at University of Baltimore.
What lead you to work here? I came to Special Collections and Archives as a researcher and a community partner a few years ago. I'm also the artistic director for a non-profit art organization and I was here to view the Robert Breck Chapman collection. The collections that are located here in the Archives are a part of my history. I wanted to support the vital efforts of the department in preserving Baltimore's hidden treasures.
Favorite Collection or Item in the Special Collections & Archives: The reason I'm here is because of the Robert Breck Chapman Photographs. I found an old photo in my parents' home of the arts program I attended. On the back of the photo, it had "Urban Service Agency Cultural Arts Program" and "photo by Breck Chapman." I'm an alumni of the Cultural Arts Programs from the 80's and 90's. It was exciting to see photos of myself as well as family and friends, right here in the archives. I was hooked! In 2016, I created a Cultural Arts Program timeline exhibit documenting over 25 years of the programming.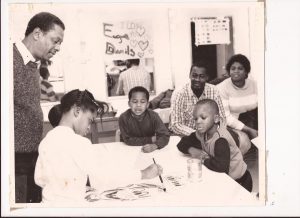 Current Project: I'm currently working with Deyane Moses, an intern from MICA, to create digital and physical exhibits highlighting the Eva Anderson's Baltimore Dance Theater Collection.
Favorite Experience with the Special Collections & Archives: The Community Archives Workshops I created in 2017 is a project that stands out. I recently coordinated this program in the Special Collections & Archives for its second year in October 2018. I enjoy having the opportunity to work directly with the Baltimore community.
Another project that stands out to me is the NEA Big Read we're currently working on in the RLB Library. The University of Baltimore's RLB Library recently received a grant from the National Endowment for the Arts to support programming in February and early March around the book Citizen: An American Lyric by Claudia Rankine. The NEA Big Read program supports community conversations and collaborations around a common book.
My role has included reaching out to community partners, helping draft our speaker request form for author Claudia Rankine, investigating book purchasing options, and collaborating on writing the NEA Big Read grant. I secured one of our major community partners, Enoch Pratt Library; as a result we received the maximum award from the NEA, one of only 79 institutions nationally to receive funding.
Our month long NEA Big Read events kicked off with a film screening and panel discussion that was on February 7, 2019. I was one of the panelists for this event. It was a great experience, talking alongside fellow community advocates, artist, and archivist. [check out a photo from this event on our Instagram!]
We have a few more events coming up which include an "I am a Citizen" exhibition at the Lyric on March 6, 2019; and a day-long visit by author Claudia Rankine, including a talk and book signing, that concludes our NEA Big Read event on March 7, 2019. We'll also be hosting a variety of book discussions and creative writing workshops with our partners Enoch Pratt Free Library, and DewMore Baltimore at Impact Hub.
[check out the full schedule of NEA Big Read events at UB here]
What have you learned while working here: I've learned the importance of preservation and I've been able to gather a lot of information about the history of community arts in Baltimore. By working with the various collections here in the archives, I gained a better understanding of our rich history; which I have shared with current community arts organizations and schools throughout the city. Working here, I am able to connect both students and community with the incredible lost stories of Baltimore.