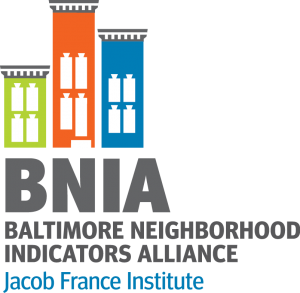 Are you a community leader, a nonprofit organization, or an individual working to improve your neighborhood and community? Then join the Baltimore Neighborhood Alliance and Jacob France Institute for Baltimore Data Day this Friday July 12, 2019! 
Baltimore Data Day is an event featuring speakers and workshops focused on sharing tools and ideas for groups using information and data to create positive change.
This year will begin with a welcome from University of Baltimore President Kurt Schmoke, Seema Iyer of the Baltimore Neighborhood Indicators Alliance-Jacob France Institute, and Lawrence Lanahan, author of The Lines Between Us: Two Families and a Quest to Cross Baltimore's Racial Divide. The full day features poster and information sessions, a hackathon, and workshops throughout the day.
The sessions and workshops aim to provide a chance for people who work with information and data to connect community members with valuable tools, information, and resources that can benefit their projects!
There's a workshop for everyone! Whether you're interested in the BNIA Vital Signs Data, learning about Baltimore and the 2020 Census, archives and qualitative data, storymaps, learning Python, students and education, archiving community history, crime data, or other topics related to using data and information in your projects, Baltimore Data Day offers a variety of sessions for community members and organizations.
You can view the full agenda and list of workshops here!
The UB Special Collections & Archives will be closed on July 12 as we will be participating in Baltimore Data Day 2019!
Fatemeh Rezaei, Archivist will be presenting in the workshop "Qualitative Data/Archives" with Betsy Nix, University of Baltimore; Nicole King, Public Health Collection at University of Maryland, Baltimore County; and Lauren Schiszik, CHAP.
Angela Koukoui, Archives Technician, Outreach and Reference Coordinator; and Laura Bell, Archivist will be presenting the workshop "Archiving Neighborhood Resources" in the afternoon.
We are looking forward to contributing to this community event and hope to see you there!
What: Baltimore Data Day
Where: University of Baltimore, Law School and Thumel Business Center, 1401 N Charles Street and 11 W. Mount Royal Avenue, Baltimore MD 21201
When: 8:30 am – 4:30 pm
Registration:  Baltimore Data Day is free and open to the public. Space is limited and registration is required. Register here!