In archives and libraries "the stacks" refers to the many archival collections, books, and resources held by the repository for students and researchers to use. Archivists, librarians, and others work hard to preserve and make these resources accessible and to create a welcoming environment for students and researchers. A Look Behind the Stacks is a series highlighting UB Special Collections & Archives staff, students, interns, and partners from other departments in the RLB Library and in UB who all help make our work possible. Follow our blog to meet us and to learn more about what we all do behind the stacks!
This past academic year, the Special Collections & Archives was lucky to work with a number of great interns, volunteers, and student workers. This blog post features Caleb Paul, a volunteer intern who worked hard to process a large collection, the Dick V. Cook Papers. Caleb's work inventorying and rehousing the collection in archival boxes and folders, and researching the history Dick Cook's life and work all helped make the collection accessible to researchers. By the end of the project, Caleb finished his work with the collection and helped write a finding aid for our database. Caleb also wrote a fun blog post about the Waverly, Wyman Park, and Charles Village Baltimore neighborhoods during the 1970s featuring selected photographs and items from the collection! Caleb's internship ended in June 2019. We had a great time working with Caleb and thank him for all of his hard work and dedication!
We hope you enjoy learning more about Caleb and his project! We wish him the best as he begins his MLIS (Master of Library and Information Science) program at The Catholic University of America this fall!
Name: Caleb Paul, Graduate Student at Catholic University, MLIS program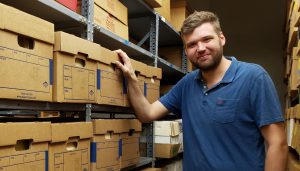 Role: I was a volunteer processing intern in the UB Special Collections & Archives between October 2018 and June 2019 when I was tasked with the inventory and rehousing of the Dick V. Cook Papers.
Educational Background: I was just accepted into the Catholic University MLIS program, before that I took a couple library science courses at the University of Maryland, College Park. Long before that I completed my undergrad at Earlham College, a wonderful school in Indiana.
How you came to the archives: I heard about this processing internship in a Special Collections class I was taking at UMD. Upon meeting with the staff here, I decided this would be a great place to gain some experience.
Favorite Item in the Special Collections & Archives: In the Dick V. Cook Papers there are some 1960's and 1970's era radical political pamphlets that really grabbed my eye; as well as this amazing local coloring book of the neighborhoods of Baltimore from the 1970's, which were featured in my blog post!
Current Project: Finishing up my work with the Dick V. Cook Papers, and getting ready for grad school in the fall. 
Favorite Experience at the Special Collections & Archives: Overall, working with the staff here has been so rewarding for someone looking to pursue archival work in the future. Lots of knowledge and insight into the field was gained.
What have you learned while working here: Due to the nature of the Dick V. Cook Papers, I have learned tons of tiny tidbits about Baltimore and history of my neighborhood, Charles Village, including that the Waverly Farmers Market, which I attend fairly regularly, was started in 1980.
Researchers interested in the history of community organizing, fundraising, social work, Baltimore neighborhoods, the Farmers Market movement, urban renewal issues in Baltimore or the work of Dick Cook, will find the materials in this collection interesting.
If you would like to view and/or use the Dick V. Cook Papers (or any other archival collections) for yourself, please contact the Special Collections & Archives to set up an appointment!