In archives and libraries "the stacks" refers to the many resources held by a repository for students and researchers to use. Librarians, archivists, and others work hard to preserve and make these resources and collections accessible and to create a welcoming environment for students and researchers. As the school year begins, A Look Behind the Stacks continues highlighting the people and work behind the UB RLB Library and the Special Collections & Archives. Follow our blog to Meet the Library and to learn more about what we all do behind the stacks!
This month, we're excited to introduce Sarah Gilchrist, Reference and Instruction Librarian!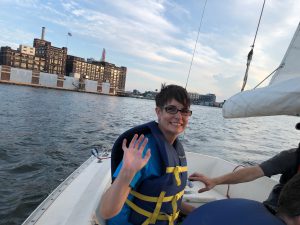 Name: Sarah Burns Gilchrist
Title/Role: Reference and Instruction Librarian
Educational Background: I earned a dual B.A. in Comparative Literature and Slavic Languages and Literature (with a minor in Art History) from Indiana University in Bloomington and I completed my Masters of Library Science (MLS) at IUPUI, the Indianapolis campus of Indiana University. 
Previous Experience: I moved to Baltimore in 2012 to begin my career as a Librarian. My first librarian position was at Towson University; I was hired as the Education Librarian, added liaison duties related to visual arts, and then became the full-time Visual Arts Librarian. Before beginning my MLS, I taught in a public Montessori school in Indianapolis and taught art outreach with the Indianapolis Art Center. Those experiences informed my direction as a librarian and made instruction part of my focus. 
I enjoy teaching a semester-long information literacy class at the University of Baltimore (UB), learning more about the subjects of my History students' research, and working in Baltimore city. I've worked at University of Baltimore since January of 2019. The university's commitment to social justice, community partnership, and history are what drew me to this campus. I know that our library is full of people ready to support the best efforts of our students at UB. 
Favorite Book: Asking a librarian about their favorite book is dangerous; asking a literature major to pick one favorite is even more complicated. Right now I'm reading "The Body Keeps the Score" by Bessel van der Kolk in order to strengthen my understanding of mind-body connections related to instruction and design. I'm also reading several books for IDIA 640: Humans, Computers, and Cognition as part of the curriculum for the D.S. program here at UB. 
One of my all-time favorite books from Russian literature is "The Master and Margarita" by Bulgakov. This novel combines historic commentary, political satire, fantastic characters, and religious narrative. If you enjoy flying pigs, talking cats, and social commentary, this is the novel for you. I'm also fond of Isabel Allende, Toni Morrison, Margaret Atwood, and Tom Robbins. I could name many more authors that have influenced me. If you'd like to talk about them, come visit me in the RLB Library.
Current Project: In addition to my instruction sessions for the Division of Legal, Ethical, and Historical Studies, I enjoy working on the pathway instruction redesign cohort with CELTT. I'm teaching a pilot section of the pathway-aligned INFO 110 (Introduction to Information Literacy) this fall. Students are asked to build on knowledge from their pathway (major) in order to solve real-life problems for our community partner. At the end of the semester, our teams will present their research about issues related to food insecurity and medical need to Moveable Feast. This spring, all INFO 110 sections will focus on pathway alignment with community partners.
Favorite Experience in the Library: Before I began working at UB, I was invited to attend the annual staff retreat at the library. Everyone shared something that they had learned during the last year. Not only was this an excellent way to meet and learn something about each of the faculty and staff at the library, but it was a great introduction to the work that people are doing here. Several events have been held in the RLB library as a result of this meeting: I learned about Baltimore community centers, the importance of design, and women in Baltimore history because of meetings related to this annual staff retreat.
What have you learned while working here: I am not a Baltimore native, so I feel like I'm always learning something new about our city. Working at University of Baltimore shows me the strength of commitment that Baltimorians have toward their city. The students, faculty, and staff that I work with on a daily basis teach me about the intricacies of city life, the history of Baltimore, and how current events are shaped by our city's past. I look forward to continuing to learn about our community and the ways that we can impact the city and each other.