On January 16th University of Baltimore RLB Library's Special Collection and Archives, in partnership with Johns Hopkins University's Sheridan Libraries and the Billie Holiday Project for Liberation Arts, hosted a community archives workshop. The purpose of the  workshop was to support local Historic Black Churches by providing tools and training that help community organizations with ways to archive and preserve their documents, photos and artifacts.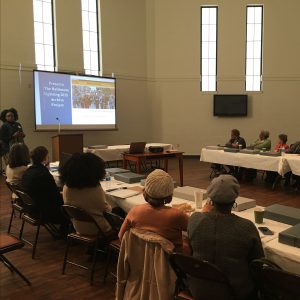 For centuries, African American churches have served as a vital foundation that has cultivated many African American communities. Although many efforts have been made to conserve historic church documents and materials, many churches lack adequate resources to sustainably preserve their collections.
The skill-sharing archive workshop, is a part of University of Baltimore's RLB Library, Special Collection and Archives, outreach initiative to preserve history by ensuring that our local community's documents and artifacts are preserved and stored correctly.
Megan McShea, an archivist previously of the Smithsonian Archives of American Art, is very involved with Baltimore arts and culture. She has been actively working with the community archives workshops at UB since 2017.
We are delighted to work with JHU, Billie Holiday Project for Liberation Arts as we explore issues related to inclusiveness of individuals and community groups that are not represented in local Baltimore repositories. We looking forward to future collaborations to come.
We extend a special thanks to Dr. Kali-Ahset Amen and Dr. Gabrielle Dean.