In archives and libraries "the stacks" refers to the many resources held by a repository for students and researchers to use. Librarians, archivists, and others work hard to preserve and make these resources and collections accessible and to create a welcoming environment for students and researchers. As the school year progresses, A Look Behind the Stacks continues highlighting the people and work behind the UB RLB Library and the Special Collections & Archives. Follow our blog to Meet the Library and to learn more about what we all do behind the stacks!
We're excited to introduce Tristen Fagg, who works with the Writing Center and Academic Success in the RLB Library!
We hope you enjoy learning about Tristen in her own words:
Name: Tristen Fagg. (No, I'm not joking. Don't be scared.)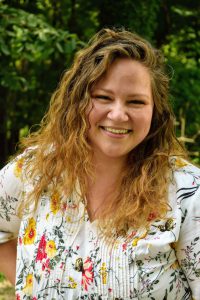 Role: I've been a Writing Consultant for three years and have been a Walk-in Consultant for the past year. I get to meet new, unscheduled students and ask them what they're working on as an ice breaker every day; I love it.
Educational Background: I attended a high school built like a prison in Las Vegas called Chaparral HS. I took a break and worked for a couple years right after graduation but I soon double majored in English and Sociology at Southern Utah University in Cedar City, Utah and got a Bachelor of Arts degree in English with an emphasis in Creative Writing. I'll receive my Master of Fine Arts degree in Creative Writing and Publishing Arts in spring 2020. I've worked in the Writing Center for three years and am a Level 3, Master tutor through the College Reading and Learning Association. I hope to stay in Baltimore for a long time.
Previous Experience: In college I was a literature and writing nerd; my first class, on the first day was Creative Writing. I hung out in the campus writing center because their computer lab was homey-est and I didn't have my own device (plus I hated sharing a desktop with my oldest sister). I watched the tutors work with students throughout the semesters. Their tutoring styles were so true to who I knew these people to be that I felt safe enough to use their services and still be friends afterwards. I always wanted to know how to do what they did. Being in that space put me shoulder to shoulder with other writers and I soon started reading for a small press of which I later became editor. After graduation I followed my heart, and publishing led me to the east coast. The realness of the local scene and its diverse culture is like my soul's compass, so Baltimore was the logical choice. Once I found this 3-4-year, intense graduate program in both writing, teaching, and publishing, I was hooked for the long haul. I enrolled in a Teaching Writing class and the director of the Writing Center came for a class visit. Afterwards, she offered to accept resumes from students in the class who wanted to be tutors. A classmate and my professor encouraged me, and I jumped at the chance. I was hired in just enough time to work Final Finish till midnight. With that experience as my orientation, I understood early on that this writing center has its own special culture to which I have been lucky to contribute.
Favorite Textbook: I've had a lot of different types of textbooks throughout the years, but two recent reads stand out. First is a book my boss recommended to me after I expressed my lack of confidence with what we call "grammary language." Rhetorical Grammar by Kolln and Gray helped me see what I already knew and gave me the terms to identify the rhetorical choices I was seeing at work every day. I recommend it to anyone who wants to understand English better and hopes to use effective rhetoric in their writing. The second book is Thinking with Type by Ellen Lupton. It's a layout design and typography textbook that taught me about type, print design, and publishing and even covers copyediting (which is coming in handy to my thesis cohort). It's such a useful and interesting book for basically everyone I know since it's marketed to designers, writers, editors, and students.
Current Project: Aside from working on my thesis manuscript this year, I'm the designated Walk-in Consultant so my projects have been making the new writing center signage and managing the walk-ins that come to get help with their work. I've also been the Writing Fellow for a Public Policy and Administration graduate course, so I have been focusing on assisting the students with their policy design skills. Along with those projects, I recently read a paper-in-progress for the first-ever Baltimore Metropolitan Writing Center Association which was founded and hosted right here at UB. I plan to revise and present the paper, currently titled "Honoring Student Spirituality in the Writing Center", one last time (after my graduation) before working toward publication in a peer-reviewed journal.
What have you learned while working with the Writing Center:  I've learned more from working at the Writing Center than any other job I've ever had throughout my life. I've learned how to talk about writing and processes to students of all skill levels, and how to hone my soft skills and tap into my innate abilities. I've learned to use everything I write like it was a finite resource but to give it my all every time. I've learned the radical notion that good writing can look like anything if it has the right audience, message, and style. And I've learned that revolutions can start anywhere with the softest voice as long as the right people listen and act as often as they have the opportunity. 
If you're interested in tutoring, workshops, or academic coaching, check out Academic Success in the RLB Library and learn how they can support you!