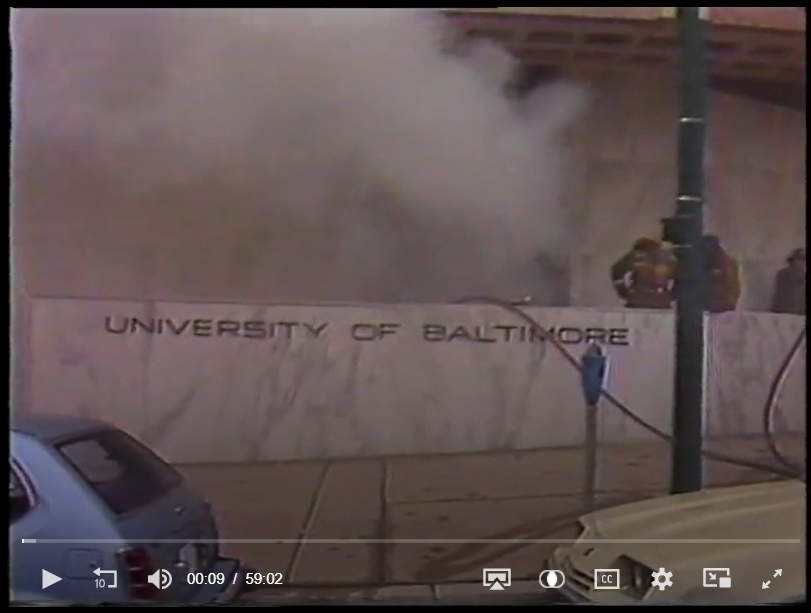 Over the years, The University of Baltimore's library has undergone relocation, renovations, and name changes. It was also once merged and diverged from the Law Library. Within the span of its history, there have been interesting and profound moments, in particular, the events of March 30th, 1980. 
Back then, RLB Library was still named Langsdale Library. According to a Baltimore Sun article dated July 31, 1980, on March 30, 1980 a subcontracted security guard set fire to a box of materials in the basement. In hopes of gaining recognition and a promotion from his employer, the man staged the emergency situation himself, planning to lead the endangered library goers to safety, and therefore paint himself as a hero.
As one might expect, things didn't exactly go as planned. The fire department arrived, and firefighters led the three students remaining inside the blazing library to safety. Their quick response and action made them the heroes. While the guard was not responsible for saving the day, he was responsible for an estimated $150,000 worth of damage to structure and the library collection. The misguided security guard also earned a 5-year prison sentence for arson rather than that coveted promotion. Luckily, some portions of the damaged collection were able to be salvaged and restored with the help of the Johns Hopkins University Applied Physics Laboratory.
For more information on this incident, including accessing video footage from WMAR-TV Baltimore:
____________
Sources:
Hendricks, T. W. (1980, Jul 31). Ex-guard admits starting fire at UB library to get attention. The Sun (1837-) Retrieved from http://search.proquest.com.proxy-ub.researchport.umd.edu/historical-newspapers/ex-guard-admits-starting-fire-at-ub-library-get/docview/538142454/se-2?accountid=28969 
Sehlstedt, A.,Jr. (1980, May 14). Hopkins fought water damage: Space lab saves U. of B.'s books. The Sun (1837-) Retrieved from http://search.proquest.com.proxy-ub.researchport.umd.edu/historical-newspapers/hopkins-fought-water-damage/docview/537747307/se-2?accountid=28969
__________________________________________________________
This post was written by Thomas Dettling, UB undergraduate student and Special Collections & Archives student worker.