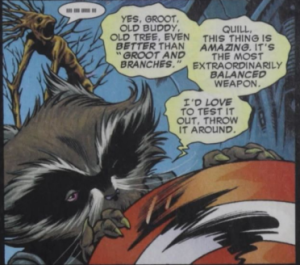 The growth of video games from the debut of pong (50 years ago today) into a major medium for cultural and artistic expression has lead to games flourishing into a increasing variety of forms. It has also lead to a wide variety of attempts at corporate synergy, branding, and marketing as video games became a multi-billion dollar industry. The RLB library's final game of the week for International Games Month illustrates this in an interesting way.
Ultimate Marvel vs. Capcom 3 was released in 2011 as an entry in a long running franchise of fighting games. Since both Marvel Comics and Capcom have a long history and a stable of hundreds of characters there are lots of options to be considered when deciding which ones to include in a game. For this version Marvel insisted on including some a obscure comic character named "Rocket Racoon." This may seem puzzling, why include a character no one in the audience for the game really knows or wants when there are more popular choices? However at the time Disney had recently acquired Marvel and there was in interest in promoting the character because of the in production movie Guardians of the Galaxy which would come out a few years later. The game was viewed as a way to introduce Rocket to a newer wider audience, showing how important video games have become as part of American and global culture. No longer are games something to be adapted from a major motion picture as was common in earlier decades, but now games could be a way to increase movie ticket sales.
Bring a friend and come play a round of Ultimate Marvel vs. Capcom 3 this week in the RLB library on the first floor!