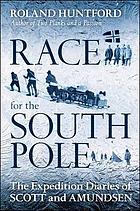 Book: Race for the South Pole: The Expedition Diaries of Scott and Amundsen (G875.S35A3 2010 )
Author: Roland Huntford

Reviewer: Ivy Owens, Langsdale Library
Race for the South Pole: The Expedition Diaries of Scott and Amundsen recounts the competition between Robert F. Scott of Great Britain and Roald Amundsen of Norway to be the first man at the South Pole, 1910-1911.
The diaries plot the progress of the two teams day by day throughout the expedition. As Amundsen recorded less per day than Scott, the amusing diary entries of Olav Bjaalund, the Norwegian ski racing champion, are included to show more of the Norwegian experience.
Amundsen organized his race exclusively as 5 men on skis with dog sled teams carrying supplies. Scott, on the other hand, organized 3 motor sledges, 19 ponies, and 2 teams of dog sleds to carry supplies . Once the motorized sledges and ponies gave out, Scott sent back the dog teams and he and four men pulled the supply sled to and from the South Pole.
The Norwegians got to the South Pole on December 14, 1910. The British team arrived January 17, 1911. As this was long before instantaneous communication, once each team left the South Pole, they had to race back to their home base, get on their ship, and sail to Hobart, Tasmania. There they could cable their accomplishment to the World.
These diary entries with their accompanying photographs are a fascinating look at the beginning of the 20th Century when there were still unexplored spots on the Planet Earth!
H
ave you read any good books lately?
W
e're looking for book recommendations that we can share with the rest of the
U
niversity.
S
ubmit yours all semester long at: http://goo.gl/lQqAv