In archives and libraries "the stacks" refers to the many archival collections, books, and resources held by the repository for students and researchers to use. Archivists, librarians, and others work hard to preserve and make these resources accessible and to create a welcoming environment for students and researchers. A Look Behind the Stacks is a series highlighting UB Special Collections & Archives staff, students, interns, and partners from other departments in the RLB Library and in UB who all help make our work possible. Follow our blog to meet us and to learn more about what we all do behind the stacks!
Celebrate Preservation Week April 21-27, 2019 with the Special Collections & Archives by learning about the wonderful work Fatemeh does as an archivist, including her role preserving audiovisual and digital collections!
Title and Role: As an Archivist, my responsibilities include collecting, processing, and preserving the University records; managing and making the audiovisual materials of the WMAR-TV Collection and the architectural plans of the Roland Park Civic League Records available for the public; providing archival reference services; and conducting introduction to Special Collections & Archives instruction sessions. I also manage our digital data and online database.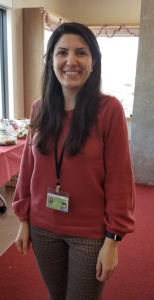 Educational Background: I studied Library and Information Science for my both bachelor's and master's degrees.
Previous Experience: Before coming to the Special Collections & Archives, my internships in three university libraries and one public library provided me with professional experience in different areas of libraries. In addition to university libraries, I have also worked for two private companies as a document manager. I started to work as a volunteer in 2015 at the University of Baltimore's Special Collections and Archives and Reference Desk and then one year later I started my current full time position as faculty at the Special Collections and Archives. It has been more than 2 years since I started my new position and I very much enjoy working in such a collaborative and friendly department. Helping our patrons which are most of the time historians, filmmakers, journalists, and students is another aspect of my job that I like a lot.
Favorite Collection or Item in the Special Collections & Archives: I receive many different questions about our WMAR-TV Collection each week. Sometimes patrons ask about a person or an event which requires me to do some primary research regarding the subject. Then, I search in our database to see if we have any footage in the WMAR collection for that subject. The entire process is very interesting and helps me to learn new things about people and past events that I did not know before. I truly enjoy working with the WMAR collection whose video items are mostly on film reels and video cassettes. And viewing old footage of Baltimore City, its landscape, and culture is interesting to me.
Current Project: I am working on a few different projects right know. Recently Kristin Colin, RLB Library Reference Librarian, and Laura Bell, Archivist in the Special Collections & Archives, and I started working on a digital preservation initiative in the library to manage and preserve our many digital materials. Kristin and I have also received a grant to do a collaborative project between Special Collections & Archives and Baltimore Neighborhood Indicators Alliance (BNIA) at the Jacob France Institute. Through this project, we plan to promote resources available in BNIA (civic data) and in the Special Collections & Archives among UB community. Another project that I have been working on for more than 2 years involves adding digital objects (PDF files of digitized materials) to the Special Collections & Archives finding aids database which I hope to conclude by the end of this year. Through this work, our patrons will have a better online access to more than 130,000 digitized pages of materials from our collections.
Favorite Experience with the Special Collections & Archives: The introduction session that I teach in different classes is one of my favorite experiences. For instance, last semester, I had an introduction session in a class called the History of Baltimore. Since their final project was about the history of the University of Baltimore, I received lots of research questions and many of the students visited the Archives. That was indeed a very busy and interesting experience for us since usually most of our patrons are from outside the school. It also led us to discover new things about the school's history.
What have you learned while working here: When I moved to Baltimore in 2015, I did not know anything about this city. All I knew about Baltimore was through watching the TV series, The Wire. Working at Special Collections and Archives, which has many collections about Baltimore in 20th century, has definitely helped me to have a better understanding of the history of the city and the roots of some problems that it has faced. Also, as a University Archivist working with the UB collections, I have learned a lot about the history of the University of Baltimore. In 2025, we will celebrate the 100th anniversary of the school, in which I am sure the University Archives will have an exciting role.