In archives and libraries "the stacks" refers to the many archival collections, books, and resources held by the repository for students and researchers to use. Archivists, librarians, and others work hard to preserve and make these resources accessible and to create a welcoming environment for students and researchers. A Look Behind the Stacks is a series highlighting UB Special Collections & Archives staff, students, interns, and partners from other departments in the RLB Library and in UB who all help make our work possible. Follow our blog to meet us and to learn more about what we all do behind the stacks!
This semester, we have been lucky to work with a number of wonderful interns. This post features Leah Ruggiere, an intern from Goucher College who curated a detailed and educational digital exhibit featuring the AFRAM Festival using materials from the UB Special Collections & Archives during the Spring 2019 Semester.
Learn more about Leah below and check out her online exhibit: THE AFRAM FESTIVAL: A digital gallery including images and insights on a complex and changeful event in Baltimore Area
Name: Leah Ruggiere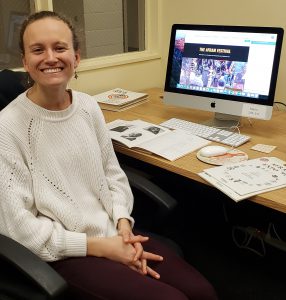 Role: I am an Archives Intern and have been working closely with the UB Special Collections and Archives while researching a topic of my choosing from 20th century local Baltimore City history, which is the AFRAM Festival.
Educational Background: I am currently studying Art History at Goucher College. I will graduate in May 2019.
Previous Experience/How you got here: I came to the Special Collections and Archives during the fall 2018 semester to seek work experience in library sciences. I was curious about what the archives had to offer me for research. I wanted to find a way I could highlight a form of the arts community in Baltimore and preserve a topic that has been overlooked.
Favorite Collection or Item in the Special Collections & Archives: I have been working with the Robert Breck Chapman Photographs collection in the UB Special Collections & Archives, specifically his photographs from the AFRAM festival. The festival has been going on for forty-three years. It was impressive to see an extensive amount of photo documentation of the festival from Chapman's time as a staff photographer for the city of Baltimore.
Current Project: I have been creating a digital gallery with research about the festival that will include photographs and secondary sources using the website program, Wix. I have been closely looking at the photos as well as documents and programs from the festival in the collection of Robert Breck Chapman's photographs, which I found in the Special Collections & Archives database while researching for my project.
Favorite Experience at the Special Collections & Archives: Having the flexibility during my internship to also go to the Baltimore City Archives and to work alongside Robert "Breck" Chapman has been an immense privilege. I have visited Baltimore City Archives twice in the course of my research and it has made me realize the importance of preserving information carefully. The archivists there were doubtful about documents pertaining to the AFRAM festival. With only a few relevant documents, I learned how much of the festival's history was buried within the city's archives. This experience taught me a lot about what the City's archives had to offer and also how to request boxes appropriately. Meeting with Breck at the UB Special Collections & Archives has enabled me to develop an interpersonal relationship with the man behind the collection.
What have you learned while working here: I have learned a lot about the importance of preserving, protecting, and organizing archives appropriately. While working with Robert Breck Chapman's photographs I have gained a clearer understanding of the many complexities of archival research. As I have been researching the AFRAM festival I have come to realize that there is a lot to be said about this festival that has been seemingly overlooked in the Baltimore area but is important for the Black Community at the same time. AFRAM festival has a lot of layers to its history which has opened more aspects to research.