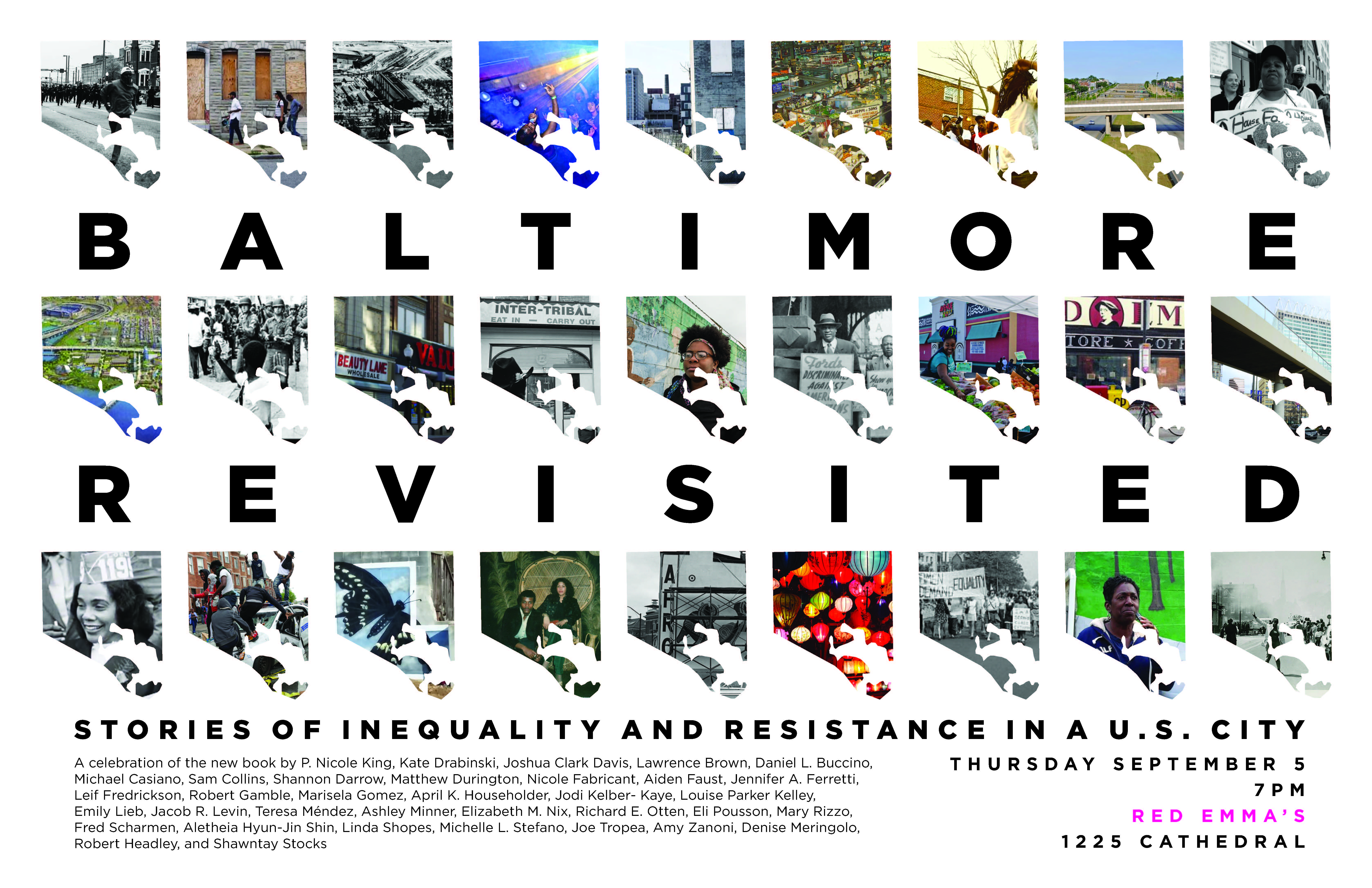 Congratulations to the editors and contributors of the recently published anthology: Baltimore Revisited: Stories of Inequality and Resistance in a U.S. City!
Edited by Nicole King and Kate Drabinski of the University of Maryland, Baltimore County, and Joshua Clark Davis of the University of Baltimore, this anthology of essays delves into the political, racial, and economic inequalities of Baltimore while highlighting the long tradition of social justice and resistance movements in the city. With a focus on the future, the collection offers readers a detailed tour of how Baltimore has been formed over time and how resources and political power shape a city. The authors ask: How can we use history to help us imagine a different present and new futures?
The anthology was praised by Lester Spence, associate professor of political science and Africana studies at Johns Hopkins University in his review, as a work that "will be known as one of the central Baltimore School texts." Baltimore Revisited brings together thirty experts, historians, scholars, librarians, archivists, and cultural heritage practitioners from inside and outside academia, as they examine the fascinating past, present, and future of Baltimore.
Learn more about the book, the authors, related research, and related events at the book website: baltimorerevisited.org
Remember to purchase your own copy at your local bookstore or online!
Celebrate the release of the new anthology Baltimore Revisited: Stories of Inequality and Resistance in a U.S. City this Thursday at the launch party!
Where: Red Emma's Bookstore and Café, 1225 Cathedral Street
When: Thursday, September 5 at 7 pm
Visit Red Emma's Event Website or check out the Facebook Event for more!
About the Editors:
Nicole King is an associate professor and chair of the Department of American Studies at UMBC. She received her PhD in American studies from the University of Maryland, College Park in 2008. Her research and teaching interests focus on issues of place, power, and economic development. She is the author of Sombreros and Motorcycles in a Newer South: The Politics of Aesthetics in South Carolina's Tourism Industry, and her research on Baltimore has been published in the Journal of Urban History and the collection Engaging Heritage: Engaging Communities.
Kate Drabinski is a senior lecturer in Gender, Women's, + Sexuality Studies at UMBC, a member of the Baltimore Heritage LGBT History Committee, and a cofounder of the Baltimore Queerstories Collective; she also writes a regular blog about bicycling in the city. Her research interests include the histories of slavery, segregation, and sexuality and how those histories and our memories of them shape urban and rural environments. She earned her PhD in rhetoric with an emphasis in gender and sexuality from the University of California, Berkeley in 2006.
Joshua Clark Davis is an assistant professor of history at the University of Baltimore and the author of From Head Shops to Whole Foods: The Rise and Fall of Activist Entrepreneurs. Davis's writing has appeared in the Atlantic, the Washington Post, and Jacobin.
Contributions by: Lawrence Brown, Daniel L. Buccino, Michael Casiano, Sam Collins, Shannon Darrow, Matthew Durington, Nicole Fabricant, Aiden Faust, Jennifer A. Ferretti, Leif Fredrickson, Robert Gamble, Marisela Gomez, April K. Householder, Jodi Kelber- Kaye, Louise Parker Kelley, Emily Lieb, Jacob R. Levin, Teresa Méndez, Ashley Minner, Elizabeth M. Nix, Richard E. Otten, Eli Pousson, Mary Rizzo, Fred Scharmen, Aletheia Hyun-Jin Shin, Linda Shopes, Michelle L. Stefano, Joe Tropea, Amy Zanoni, Denise Meringolo, Robert Headley, Shawntay Stocks