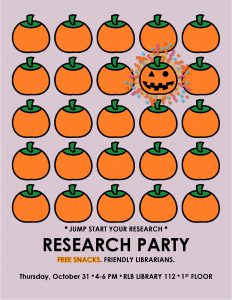 You probably won't be surprised to learn that many librarians think research is fun. For students, however, it can sometimes be a source of frustration. It isn't always easy to tell if you have a good topic, and it can be really frustrating if you have an idea that you really want to explore, but just can't find much information about it. And sometimes it is just hard to get started. If you can get past those initial hurdles though, you might find that the process becomes a lot easier and (dare I say) fun, especially if leads to an opportunity to learn about an interesting topic.
This is one reason why libraries across the country have been hosting research parties for their students.  This semester, the RLB is following suit with our first Research Party on Wed, Oct 2 from 4-6.Whether you want to speak with a librarian to help get past a research hurdles, or think it may help to be in a room with other researching party-goers, you can drop by and join in the fun.
And if you can't make it Oct 2, don't be scared.  We'll have another one at the same time and place on Thursday, Oct 31 (costumes optional).