The UB Special Collections & Archives is celebrating American Archives Month throughout October!
Let's be honest, every month is archives month here at the UB Special Collections & Archives! But, every year October is a chance for everyone to learn more about archives and the work archivists do to preserve history!
You can learn more about the UB Special Collections & Archives by following us on RLB Library social media accounts (Facebook, Instagram, and Twitter) and reading our blog posts!
If you're starting new research projects using archival collections, please set up an appointment by contacting us at: specialcollections@ubalt.edu or calling 410-837-4253
Join us on October 2, 2019 on Twitter during #AskAnArchivist Day!
This is a chance to learn more about how how archivists around the country work to make history accessible!​ We had a great time last year, and look forward to participating again!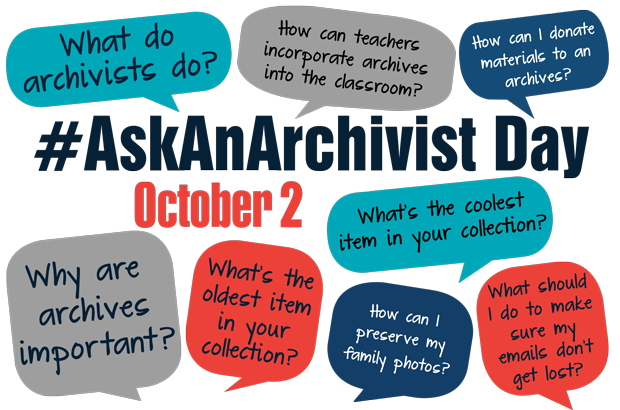 What is #AskAnArchivist Day?
Archivists nation-wide will be on Twitter answering your questions about archives and archivists! This is a chance to connect directly with archives in your community (like the UB Special Collections & Archives!) and around the country.
Here at the UB Special Collections & Archives we collect, preserve, and provide access to archival materials in all formats to support the research needs of students, scholars, and the public. We are committed to the local community and our goal is to make our unique resources on the history of modern Baltimore available. Our archivists work to make our collections accessible so that they can be used by researchers like you!
So do you have a question about what the archivists here at UB do or how archives work in general? Do you wonder how you can use archival collections in your class work? Are you interested in learning more about visiting the archives? Curious about our favorite collections? Ask us anything!
How does it work?
#AskAnArchivist Day is open to everyone—all you need is a Twitter account!
To participate on October 2, 2019, just tweet a question about archives, special collections, or archivists and include our Twitter handle @RLBlibrary and #AskAnArchivist with your question!  We will be monitoring Twitter all day on Oct. 2 and are looking forward to your thoughts and questions!
You can also ask an archivist anywhere in the country a question by simply using #AskAnArchivist in your Tweet!
Can't participate in the Twitter event?
You can always check out our blog posts on the RLB Library Blog to learn about Baltimore history, our collections in the Special Collections & Archives, and our work behind the scenes!
Happy American Archives Month!