In archives and libraries "the stacks" refers to the many resources held by a repository for students and researchers to use. Librarians, archivists, and others work hard to preserve and make these resources and collections accessible and to create a welcoming environment for students and researchers. As the school year progresses, A Look Behind the Stacks continues highlighting the people and work behind the UB RLB Library and the Special Collections & Archives. Follow our blog to Meet the Library and to learn more about what we all do behind the stacks!
We're excited to introduce Jenna Lehmann, a Tutor in the Math Support Center in the RLB Library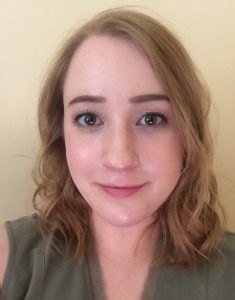 Name: Jenna Lehmann
Title/Role: I'm a Professional Tutor working in the Math Support Center in the RLB Library. I originally started off working as a Peer Tutor last year and have since graduated from my Master's program. I love tutoring at UB so much that I came back! I spend most of my time in the Math Support Center tutoring students in various math classes. I also conduct math workshops, conduct class visits and create flyers to better advertise our services, and contribute to the Math Support Resource Page.
Educational Background: I earned my B.A. from Muhlenberg College in 2017, having double majored in Psychology and Music. In 2019, I earned my M.S. in Applied Psychology with a concentration in Counseling Psychology from UB.
Previous Experience: I first started off tutoring in 2015 while I was still in undergrad after I was recommended by my Psychological Statistics professor. I tutored a variety of different subjects from statistics, to biological psychology, to music history. After I graduated and started the Master's program here at UB, I didn't think I would have the opportunity to tutor again until I was once again recommended by my Statistics and Research Methods professor. I began working as a tutor in fall of 2018 spending time in the Math Support Center and meeting with students in non-math classes for individual tutoring. I continued to work as a peer tutor until I graduated that following July, after which I was offered the position I currently hold. Now, I spend my time tutoring math exclusively.
Favorite Textbook: As nerdy as this sounds – yes, I do have a favorite textbook. It's called SPSS Demystified: A Simple Guide and Reference. The reason I like it so much is that it's so easy to read and follow, which can be difficult accomplish when creating a statistics/SPSS textbook. I want to write my own statistics textbook one day and I think going through this textbook is what inspired me to make my own easily understandable and educational text. It's also what I try to model in my own Math Support Resource Page posts on. For students who are in a Psychology program or are simply interested in learning how to use SPSS, the Math Support Center has a copy of this book for students to use within the library.
Current Project: I have a few ongoing projects at the moment. This semester I'm conducting a pre-stats crash course workshop series for students who are expecting to take a statistics class in the future and would like a head start or need a chance to brush up on concept that they might have learned before. I'm also creating an Excel workshop designed to teach other math tutors how to use Excel for the purpose of solving math problems and running statistical analyses. This workshop is also being modified somewhat to be used both as an in-class workshop for any statistics classes who would like this information. This may also be modified again to become an extracurricular workshop for students not currently enrolled in a math class. The biggest project I'm currently undertaking is the creation and modification of the Math Support Center Resource Page. We recently got this page up and running, and so my job now is to create content which will be posted onto the page. The page itself is meant to be a resource for students who are confused about a mathematical or statistical concept and would like a quick, easy to understand description to read.
What have you learned while working here: Since working here, I've gained a better appreciation for greater access to learning materials as well as consistent encouragement. I don't believe that just because students are expected to do harder work in higher education that they should have to struggle to get it done. I believe that students should be focused on really internalizing the material presented in a class rather than focused on passing their classes. In my time working as a tutor for UB, my experience has been that students want to understand the material and they oftentimes don't feel satisfied just knowing enough to finish their homework and pass their tests. I've seen students who claim to "hate math" smile ear to ear when they finally understand a new concept. So then why not create more opportunities for that? I try my best to work according to this value which is why I've helped create a variety of different resources for students. Maybe there are some people out there who really hate math, but I've learned that that number isn't nearly as big as I had previously thought. I hope to help future students find math much less intimidating.