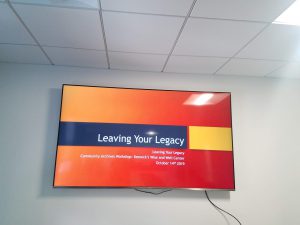 The UB Community Archives Workshops provide tools and training that help individuals with ways to archive and preserve their documents, photos and artifacts. These skill-sharing workshops are offered as part of RLB Library, Special Collection and Archives, outreach initiative to preserve history by ensuring that the local community's documents and artifacts are processed and stored properly.
This year, a 6-week off-site Community Archives Workshop called "Leaving Your Legacy", was held at the new Keswick Wise and Well Center located in the Hampden area.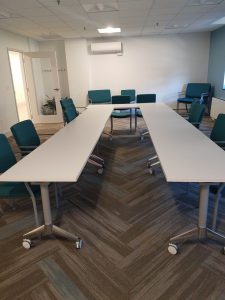 Keswick, Wise and Well Center for Healthy Living opened last fall. The building is located on Keswick's campus (former Bauernschmidt Building). The membership-based center offers classes, coaching and workshops across multiple measurable ways of wellness.
The Wise and Well Center offers the chance for older people to attend educational programming on countless topics and take advantage of numerous resources so they are able to "live well, age well and be well".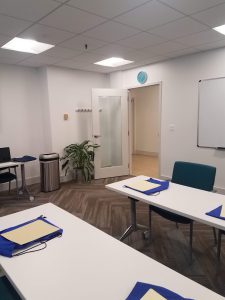 The first few weeks of the workshop introduced the purpose of workshop and an overview of the process to archiving personal materials. Archives are records of lasting value, it not only serves as a means for documenting the history of organizations, but also for individuals. It serves as evidence of the impact of people's contribution to their families legacy, their community and to society as a whole.  Although the idea of legacy may remind some of death, legacy is about life and living.
 During the last few weeks, the participants shared their own photos and artifacts along with stories about themselves and the communities they grew up in. The conversations evoked a sense of  pride, humility and a better understanding of each diverse individual who participated.
The workshops were design to be  inclusive in nature, welcoming discussions between individuals form various communities and backgrounds. It was encouraging to witness such an expansive, creative, and inclusive interpretation of how individuals wanted their own stories to be told.
Feedback from the participants were positive, as many stated that the workshop was informative and worthwhile. It was an rewarding experience, working in outreach. Our goal is to increase the awareness of the importance of inclusiveness in preservation by providing resources that will support the community initiatives that want to learn the archival process.Special Collections and Archives will continue to serve the Baltimore community.