In archives and libraries "the stacks" refers to the many archival collections, books, and resources held by the repository for students and researchers to use. Archivists, librarians, and others work hard to preserve and make these resources accessible and to create a welcoming environment for students and researchers. As the school year progresses, A Look Behind the Stacks is a blog series that continues highlighting the people and work behind the UB RLB Library and the Special Collections & Archives. Follow our blog to learn more about what we all do behind the stacks! 
This semester the UB Special Collections & Archives have been lucky to work with wonderful interns and students! This post features Jamie Grace Alexander, a UB independent study student researching and utilizing the archives for her class this semester. 
Name: Jamie Grace Alexander, Community Studies & Civic Engagement, UB, Class of 2020
Role: Independent study researcher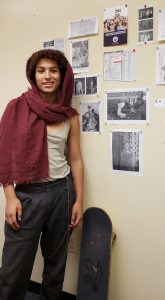 Educational Background: Intersectional theory, gender & women's studies, social policy, grassroots activism
Previous Experience: I've worked in transgender community here since I was a teenager, advancing state & citywide recognition for trans & nonbinary individuals. However, history does a lot to legitimize the truths I've had to fight so hard for. Especially when the grounds of our dehumanization is based on false ideas about LGBT people only existing for a short time, or fitting into narrow stereotypes.
I had heard about the archive of Baltimore gay history here in UB Special Collections & Archives since before I even attended this university. I knew when I enrolled that I wanted to find some way of working with this history & marrying it with my knowledge of LGBT community here today.
Favorite Collection or Item in the Special Collections & Archives: The 31st Street Bookstore sign, which used to hang around the corner from my house, is now housed in the archives' storage in the basement of the learning commons. This sign, the largest object in the collection, represents the 50 year history of lesbians in my neighborhood. Being linked to that history is beautiful & validating as a lesbian who passes the former site of the 31st street bookstore, on her way to school.
Current Project: The Baltimore Gay Paper ran from 1979 to 2015 — I am working on making a newspaper with my findings that supplements marginalized history; specifically the stories of women, black people, & transgender individuals.  This newspaper will act as restorative justice, giving LGBT subjects the humanizing coverage they deserve.
Favorite Experience at the Special Collections & Archives: The photos. Being in community today, so much of what I see in the archive points to history repeating itself. The same people, the same problems, the same squabbles crop up over & over throughout our collective history.
I feel a deep sense of kinship when I see someone in the archives that I recognize as a community elder today or when I see someone from the past that bears a striking resemblance to one of my peers. These are the moments I live for when working with the archive.
What have you learned while working here: Archives teach us what is valuable & worth preserving, these primary & secondary sources are some of our best sources if we want to learn about LGBT community. However, what is missing is just as important –hiding at the intersections of LGBT identity are real & nuanced stories of people like me.