The NARAL Pro-Choice Maryland Records, a collection documenting a local non-profit organization's work, is now available for research use at the UB Special Collections & Archives!
This recently processed collection provides a window into the activities and work of a local grassroots community organization that advocates for gender equality and access to reproductive health options in Maryland. According to their website, NARAL protects gender equality and reproductive rights by advocating for issues such as abortion access, birth control, paid leave, and by opposing pregnancy discrimination. NARAL Pro-Choice Maryland supports reproductive freedom for all Marylanders through community organizing, research, education, outreach, and through collaboration with NARAL Pro-Choice America and other organizations. The NARAL Pro-Choice Maryland Fund performs consumer research, community organizing, and education; and the NARAL Pro-Choice Maryland PAC supports and works to elect pro-choice individuals into state and local political offices.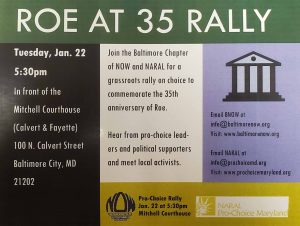 This archival collection documents a number of NARAL's activities over the years. The collection includes a significant amount of files related to Maryland Elections from the Maryland NARAL PAC including candidate questionnaires, voters' guides, and election news clippings. Over the years, NARAL Pro-Choice Maryland has researched a number of issues in order to improve access to reproductive healthcare in the state. Within the collection, NARAL's organizing activities and research related to access to abortion and health services in Maryland are well documented. Several research initiatives of note include multiple investigations of Crisis Pregnancy Centers in Maryland, emergency contraception, and abortion access surveys.
You can learn more and read recent reports from NARAL's investigations of Crisis Pregnancy Centers in Maryland on their website and explore the archival collection here in the archives to learn more about these studies. The collection in the UB Special Collections & Archives also provides samples of NARAL's events tabling and organizing and outreach activities such as their work with sex education in Maryland, the Women of Color Project, Choice for America, and other events such as anniversaries of the Roe v. Wade Supreme Court Decision. Check out the collection finding aid to learn more about the history of NARAL and its initiatives!
Today, it's valuable to reflect on the history of access to healthcare and the services organizations in our region continue to perform in order to ensure access to care. Learning about the people and the groups who have helped make these services more accessible and continue to advocate for reproductive rights can provide researchers with a window into the history of healthcare and gender equality in Maryland and in the U.S.
The UB Special Collections & Archives provides access to numerous collections from community organizing groups, organizations, and non-profits. Several of our collections contain materials relating specifically to healthcare, reproductive rights, gender equality, and women's issues. A list of a few of these collections is below!
The NARAL Pro-Choice Maryland Records document the outreach efforts, research projects, and organizing work this non-profit has completed over the years.
The Planned Parenthood of Maryland Records document the work and services of the organization since its founding in 1927 through 1966.
The American Civil Liberties Union of Maryland Records include materials documenting issues related to civil rights and gender equality.
The League of Women Voters of Baltimore City Records include materials documenting the League's research, positions, and programs related to reproductive rights, gender equality and women's issues, and civil rights.
If you would like to view and/or use the NARAL Pro-Choice Maryland Records archival collection or others for yourself, please contact the Special Collections & Archives to set up an appointment!