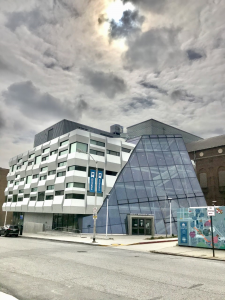 Thanks to everyone who submitted entries to the RLB "I want to live in a library" essay contest. Congratulations to our winner: Frannie Goldsmith from Ogunquit, ME. Read below for the latest update on how Frannie is doing.

Even with UB's campus closed to students and non-essential personnel, many RLB services are available online, being delivered by staff who are working from home. If you happen to be able to see into the library from your home or while traveling for purposes that do not violate Governor Hogan's stay at home order, you may perchance see someone moving inside the building, and wonder who that may be.
That one person is UB student Frannie Goldsmith, winner of the recent "I want to live in a library" essay contest. As the winner, Frannie won the right to be the sole occupant of the RLB library and call it home until the campus is re-opened. Congratulations, Frannie!
While living in the library, Frannie has already been able to check off several titles from her bucket list of books.  With so many computers available, Frannie is still trying to figure out her favorite spot to take her online classes but usually she stays on one of the quiet floors (floors 3 and 4).  Frannie say that she finds it easier to concentrate with fewer distractions.  Frannie has also been called upon to help with some of the library services that can't be delivered without having someone in the building. For example, the other day someone was trying to find "the name of that book with a red cover, on the third row of books on the left side", and Frannie was able to start a Zoom session on her phone to virtually co-browse the shelves in order to figure out which book it was.
Frannie is so overjoyed at winning the contest that she just can't stop giggling. "My father always told me that sometimes King Laughs knocks and I'm one of those people that can't keep him out", Frannie said. Plus, she wasn't looking forward to being stuck inside the same house as her mother, so winning this contest was kind of a relief. Stephen King is Frannie's favorite author.
I want to live in the library essay contest.
Update: 4/1/2020
The deadline for entries has closed. Thank you for your interest.

With the UB campus set to close for students and most employees we thought this might be a great time for someone to live out their fantasy of having a library all to themselves. In order to maintain social distance, the building will be closed to everyone. However, we have been given permission to allow exactly one person to remain inside and call the library "home". Would you like to be that person? If so, enter our "I want to live in a library" essay contest.
To enter, write a 500-750 word essay on why you would like to live in a library. The winner will be able to stay in the RLB Library building while campus is closed and read as many of the books as they are able. While in the RLB, you will be able to use the staff kitchen to store your food and cook. There is a janitorial closet in the basement that you should be able to use for bathing, washing clothes and the like. It is less than ideal, but think of all the books on the shelves that you will be able to read at your own pace! The winner will be chosen based on commitment, creativity, adaptability and the amount of money donated to the PayPal account of the contest judge. Thank you for entering our contest!
Happy April Fool's Day
If you have read this far, I hope you have enjoyed this small bit of levity.  While we don't really have anyone working in the building itself, RLB staff (like many UB staff) are working from home. We are still learning many things about how to function in our current reality but are committed to providing RLB services in whatever ways we can. Best wishes and stay safe.