This post was written by Denisha Hobbs, Academic Coach with Academic Success, RLB Library
As the semester ends and we get closer to final exams, end-of-year events, and more, the Academic Coaches in RLB Library encourage everyone to connect with them for support! Read the letter from our coaches to students below to learn more!
Dear UB Community,
We hope you are all doing well despite what is going on in the world. Though we've had some unexpected challenges and a global pandemic this semester, our hope is that you are doing the best you can to complete your courses.
As the semester ends, you may be thinking, "Oh no! I don't know how to organize my notes!" or "How do I manage my time with so many finals coming up?!" or "Is there someone who can help me complete the semester successfully?" You are in luck! Academic Coaches and Academic Success of the RLB Library are here to answer all of your questions! Whether it's managing your time or organizing your notes to better prepare you for final exams, we know this semester has been challenging, but do not worry, we have your back! Academic Coaches are also UB undergraduate and graduate students, so we understand the ups and downs of the semester.
If you'd like to work with an Academic Coach before the end of the semester, schedule a Zoom session with one of the Academic Coaches via the Appointment Tool on MyUbalt. Click the dropdown box and click on "Tutoring and Coaching." Fill out the form for the time that is available, and you are on your way to accomplishing your final exams!
And remember — Final Finish is happening April 29th 6 p.m.-Midnight! This is a great time to schedule an appointment with an Academic Coach through Zoom or drop in to hang out with other students in our Zoom Final Finish waiting room!
If you have questions, contact us at: coaching@ubalt.edu
We are so excited to assist you in completing your semester STRONG!!
If you will be taking courses this Fall 2020 semester, Academic Coaches will be available to help you start the semester right and support you in your academics!
Good luck,
Academic Coaches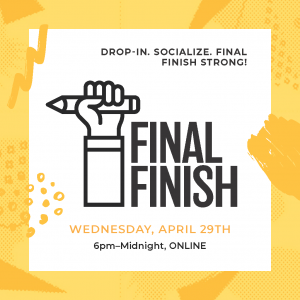 This post was written by Denisha Hobbs. Denisha is an MPA candidate at University of Baltimore studying Healthcare Policy and Administration, and Academic Coach with Academic Success, RLB Library. You can learn more about Denisha's experience as an Academic Coach in her recent Behind the Stacks: Meet the Library with Denisha Hobbs blog post!