As we are all teleworking, learning online from home, and working from home due to the COVID-19 pandemic, the RLB Library hopes you are able to continue reading and learning about your interests. We are continuing our What Are You Reading? blog series to share a few new titles and reading ideas! 
The What Are You Reading? blog series highlights books recommended by the RLB Library staff. Follow the blog to learn what we are all reading and find ideas for your next page-turner!
We hope you enjoy reading Mike's thoughts on his recent reading adventure in his own words:
Name: Mike Kiel, Reference and Instruction Librarian and Head of Information Literacy Initiatives
What have you been reading? Battle Cry of Freedom by James M. McPherson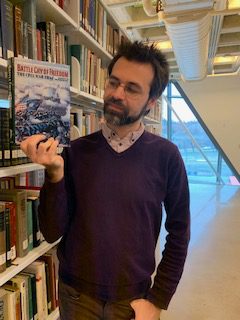 Impressions:
It's really comprehensive, and easy to read despite being extremely dense. I feel like I've learned an incredible amount about the origins of the Civil War and how the institution of slavery shaped all aspects of society before the war. I'd definitely recommend it!
Why did you choose this book? 
My father had read it and I had been interested in reading more critically regarded books, so I thought I'd give it a try.
How does this compare with what you typically read?
I don't typically read a lot of US history, or military history, so it's really a different experience for me. It's been very thought provoking to consider how individual choices at that time have had consequences that reverberate into our society today.
Looking for your next book? Remember, RLB Library offers e-books for the UB community that are still accessible online though the campus buildings are currently closed due to COVID-19. Learn more about our e-books with this LibGuide! When campus reopens, you can visit us and dive into a book you find in the stacks!