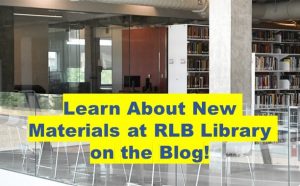 Did you know that RLB Library offers a list of all of our newest materials? We do! Each month we'll post an update letting you know about a few select titles, but there are far too many to mention here so be sure to check out our comprehensive online list.
New Materials at RLB Library:
"This book offers a short, spirited defense of rhetoric and the liberal arts as catalysts for precision, invention, and empathy in today's world. The author, a professor of Shakespeare studies at a liberal arts college and a parent of school-age children, argues that high-stakes testing and a culture of assessment have altered how and what students are taught, as courses across the arts, humanities, and sciences increasingly are set aside to make room for joyless, mechanical reading and math instruction. Students have been robbed of a complete education, their imaginations stunted by this myopic focus on bare literacy and numeracy. Education is about thinking, Newstok argues, rather than the mastery of a set of rigidly defined skills, and the seemingly rigid pedagogy of the English Renaissance produced some of the most compelling and influential examples of liberated thinking."- Provided by publisher.
---
"An authoritative, richly illustrated history of six centuries of global protest art. Throughout history, artists and citizens have turned to protest art as a means of demonstrating social and political discontent. From the earliest broadsheets in the 1500s to engravings, photolithographs, prints, posters, murals, graffiti, and political cartoons, these endlessly inventive graphic forms have symbolized and spurred on power struggles, rebellions, spirited causes, and calls to arms. Spanning continents and centuries, Protest! presents a major new chronological look at protest graphics. From the French, Mexican, and Sandinista revolutions to the American civil rights movement, nuclear disarmament, and the Women's March of 2017, Protest! documents the integral role of the visual arts in passionate efforts for change."–Provided by publisher.
---
"Shawna Potter, singer for the band War On Women, has tackled sexism and harassment in lyrics and on stage for years. Now she's turned decades of experience into a clear and concise guide for public spaces of all sorts, from art galleries to bagel shops to concert halls, that want to shut down harassers wherever they show up. The steps she outlines are realistic, practical, and actionable. With the addition of personal stories, case studies, sample policies, and no-nonsense advice like "How to Flirt without Being a Creep," she shows why safer spaces are important, while making it easier to achieve them."
---
These are just a few of the many new books, movies, and games at your RLB Library. To see the complete listing of new materials check out our list right here!