UB Special Collections & Archives is deeply saddened by the loss of Betty Garman Robinson, a civil rights activist and Baltimore community organizer. Betty passed away this past weekend at the age of 81. We remember her life, her work, and her continuing legacy.
Betty Garman Robinson was an active community organizer who contributed to many social justice groups, nonprofits, and community organizations in Baltimore and elsewhere throughout her life. During the Civil Rights Movement, she worked with the National Student Association, and later Betty was a staff member with the Student Nonviolent Coordinating Committee (SNCC) in Mississippi and Georgia.
Betty moved to Baltimore in the early 1970s. During her public health career in Baltimore, Betty worked in occupational health and public health research. In 1997, she returned to community organizing as the Lead Organizer for the Citizens Planning and Housing Association (CPHA) until 2003. Betty was awarded a 2003 Open Society Institute Baltimore Community Fellowship in order to work with local community groups and to teach the history of community organizing in Baltimore in a course entitled "History and Vision of Baltimore Social Justice and Organizing" at the Sojourner Douglass College in 2005.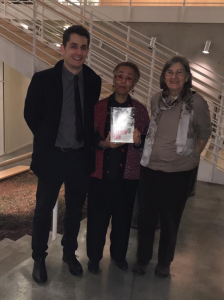 Over the past few years Betty has collaborated with many of us in the University of Baltimore community by speaking at events, sharing her experiences, and teaching new generations about advocacy, social justice, and community organizing. She worked with UB Professor Joshua Davis in a number of his history courses, collaborated with Angela Koukoui and the JEDI Series creators just a few weeks ago at the first UB JEDI Series event, and donated a collection of her papers to the UB Special Collections & Archives. 
In 2019, Betty's archival collection was arranged and described by processing archivist Laura Bell, and over the summer of 2020 a number of folders from the collection were digitized and made accessible through the finding aid online. Her papers at UB Special Collections & Archives focus on her work in the Baltimore community. Those who worked with Betty, or worked with her archival collection, know that she had much to teach us.
Her contributions and her impact have no limit to those who continue to learn from her life and work.
We hope you will enjoy learning more about Betty and her work through the resources below.
If you browse the finding aid for the Betty Garman Robinson Papers, you will find selected digitized folders.
At UB Special Collections & Archives:
Other Online Resources: