In archives and libraries "the stacks" refers to the many resources held by a repository for students and researchers to use. Librarians, archivists, student workers, interns, and others work hard to preserve and make these resources and collections accessible and to create a welcoming environment for students and researchers. A Look Behind the Stacks continues highlighting the people and work behind the UB RLB Library and the Special Collections & Archives. Follow our blog to Meet the Library and to learn more about our library work behind the stacks!
We're excited to introduce James Idsardi, Special Collections & Archives Spring 2021 Intern. We hope you enjoy learning about James in his own words in his new blog post:
Name: James Idsardi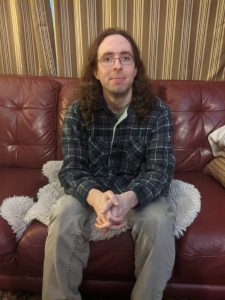 Role in the Library: Intern, University of Baltimore Special Collections & Archives, working with Audio-Visual Collections.
Educational Background: I am in the final semester of my Master of Library and Information Science degree from the University of Maryland, College Park.
Previous Experience: As part of my degree, I had to conduct a semester-long internship at an outside information institution. However, being situated in Delaware during the COVID pandemic, all of my local libraries and archives were either closed to the public or not available to take on interns at this time. I had some previous contact with university archives as part of my coursework, and have an artistic interest in found objects, so after I had contacted the University of Baltimore asking if they would be able to take me on, I was overjoyed that they had this opportunity that I could assist in. I am extremely grateful to Aiden Faust, Fatemeh Rezaei, and the rest of the University of Baltimore Special Collections & Archives for being so supportive in this endeavor.
Favorite Collection and Activity: My favorite part of my work here has been composing shot lists for digitized film within the WMAR-TV Collection. In order to verify the subject material of these videos and compose accurate descriptions, I have scoured the web to find verification of individuals, places, and subjects in the videos independent of the work, if possible. Through this, I am able to to construct a dual perspective of them: one that has accumulated over intervening years either through changes over time or the accumulation of additional perspectives, and one constructed contemporaneously through the information object. Examining these gaps allows me to engage with these materials on a deeper level than I might have otherwise, and has sparked my interest in subjects that I hadn't heavily considered beforehand.
Current Project: In addition to the shot list project, I am also attempting to create a workflow for adding subtitles to videos within the library's digitized audiovisual holdings. While I had some experience adding captions to videos for one-off projects, this project has forced me to think outside the box not only regarding the types of formats that must be accounted for, but also making the process to generate captions replicable in an easy and consistent manner. It has been interesting to examine the different ways different platforms go about handling transcription and subtitle implementation, and trying to composite together an approach that provides the most accurate set of lines in the least amount of steps.
What have you learned while working here: As mentioned earlier, the shot list work has given me a good perspective on aspects of Baltimore and Maryland history that are brushed over or omitted in retrospective accounts. While there are some instances where a figure covered by them is famous enough to have considerable outside profiling, such as Spiro Agnew, there are so many accounts of minor figures that have faded into obscurity that these objects successfully preserve, and which provide a means of insight that I wouldn't be able to obtain anywhere else. Additionally, this internship has given me a better perspective of what archival work actually entails. Being part of an online degree program, I did not have an opportunity to take courses in archiving when I first enrolled, so many of the techniques and practices were alien to me. Engaging in these projects and having a constant line of communication with the faculty here has made the subject feel much more approachable, and has made me want to stay engaged in this sort of environment going forward in some capacity.