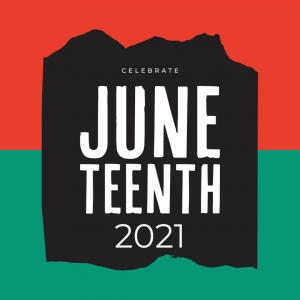 The History of Juneteenth
Juneteenth celebrates African American freedom from slavery in the U.S. and is the oldest holiday celebrating Emancipation in the country. The holiday honors June 19, 1865, when Major General Gordon Granger led Union soldiers into Galveston, Texas and announced the end of the Civil War and the abolishment of slavery. The arrival of Union troops marked the enforcement of the Emancipation Proclamation which had been signed by President Abraham Lincoln 2 ½ years prior in 1863, but which had not been enacted in Texas (Juneteenth.com).
Over the years, the holiday celebrating African American freedom grew in Texas and nationally. It became an official state holiday in Texas in 1980. According to Henry Louis Gates, Jr.'s article What is Juneteenth?, since 1980 over 40 states and Washington, D.C. now observe Juneteenth as a state holiday or with holiday observance. Though Juneteenth has a lengthy history, this Smithsonian blog post explains that many Americans have not been aware of it.
Today the holiday's history and significance is becoming more widely known. Last year in 2020, many people learned about Juneteenth for the first time and the holiday experienced a surge of appreciation and acknowledgement. This New York Times article highlights the importance of Juneteenth in light of the killing of George Floyd and other Black Americans in addition to the recent national protests against police brutality and racism. Increasingly more states, cities, and counties are officially recognizing the holiday. For example, this year Howard County is now celebrating June 19 as Juneteenth National Freedom Day, according to the Baltimore Sun.
According to Juneteenth.com, the holiday celebrating African American freedom has often included family gatherings, sports, food, games, and more. Though we are still careful due to COVID-19, we hope you enjoy celebrating this significant holiday, and we encourage you to learn more about Juneteenth through the resources below.
Learn More with the Juneteenth Section of the Library's Black Lives Matter LibGuide
Celebrate Juneteenth 2021 in Baltimore, Annapolis, and the Washington, D.C. Area
Learn More About Juneteenth Online
Ebooks from the RLB Library Related to the Emancipation Proclamation and Juneteenth
Interested in Archival Resources on Juneteenth?
ArchiveGrid is an online searchable collection of more than 5 million finding aids and descriptions for archival collections from archives and repositories all over the world.
If you're interested in conducting archival research related to Juneteenth or the Emancipation Proclamation, check out ArchiveGrid and use the search box at the top of the page to search for archival collections and repositories.
We hope you enjoy learning more about and celebrating Juneteenth this year and every year on June 19th. University of Baltimore will be closed June 18, 2021 in observance of Juneteenth.
__________________________________________________________
This blog post was originally posted June 18, 2020. It was updated in June 2021.