This blog post was created and written by Deyane Moses and Bria Warren, Inheritance Baltimore Community Archives Fellows. Learn more about the Community Archives Program at UBalt and JHU.
The UB-JHU Community Archives Fellowship is a training fellowship designed to expose early career professionals of African descent to careers in the archives. The two fellows selected in August 2021 were Deyane Moses, MICA MFA Curatorial Practice '21 and Bria Warren, UMBC MA in History '21. Prior to their appointment, these scholars extensively studied Black history in Maryland. Ms. Warren's thesis explored the history of lynching rhetoric in Maryland newspapers and Ms. Moses' work uncovered and highlighted the Black history of MICA. 
This week the Community Archives Fellows sat down to reflect on the work they've done so far, what they've learned, and how they are impacting the city of Baltimore one archival box at time. Here's an excerpt from a Zoom Chat between Deyane Moses (DM) and Bria Warren (BW):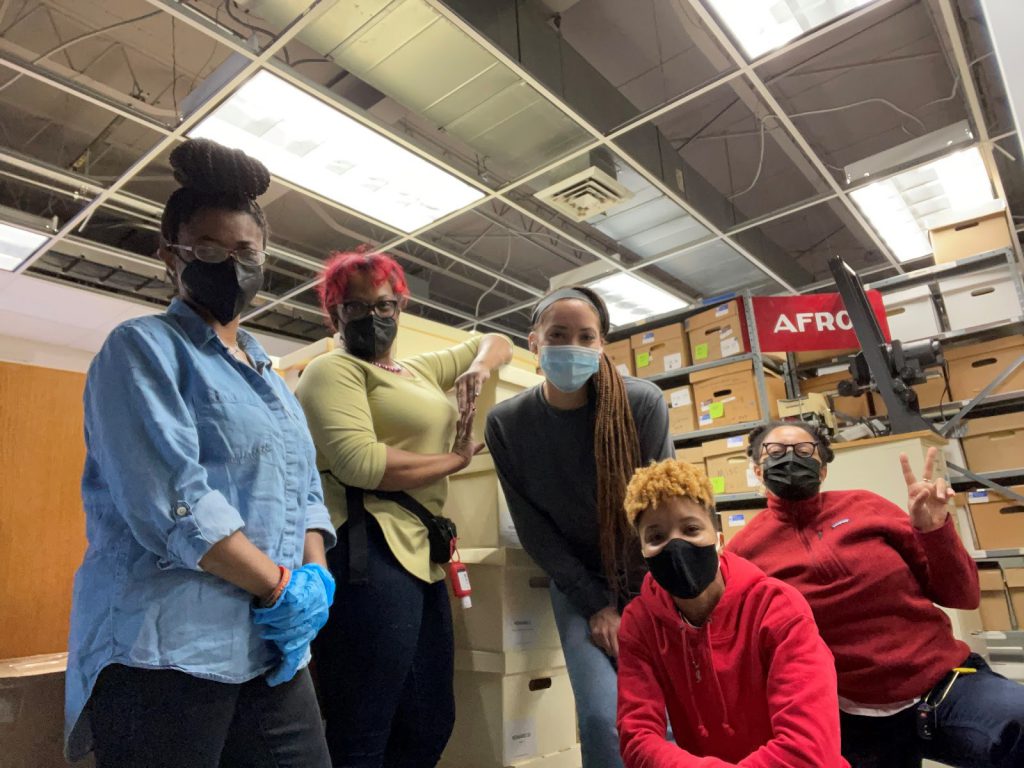 12:22pm
DM: Girl, my body still hurts from moving those boxes at the AFRO last week.
12:23pm
BW: Sis, I know. My arms are so sore too. We've done so much work in the past four months – from moving boxes to working in the community to processing collections. It's been a busy year.
12:24pm
DM: Right! But it's so rewarding. Working with our community partners has been my favorite part of the program thus far. I've used their archives so much in my research it's great to give back.
12:28pm
BW: SO rewarding! I feel so blessed to work with so many amazing people. Working with churches and community organizations to help them meet their needs has been so fulfilling. I used the archives a ton in my master's thesis too so doing this work feels like a full circle moment. 
12:34pm
DM: Baltimore has such a rich history and the churches hold the key to a lot of untold stories and social movements in the city. Do you remember when we worked with the Metropolitan? Their heritage hall covered almost 200 years of the congregation's history!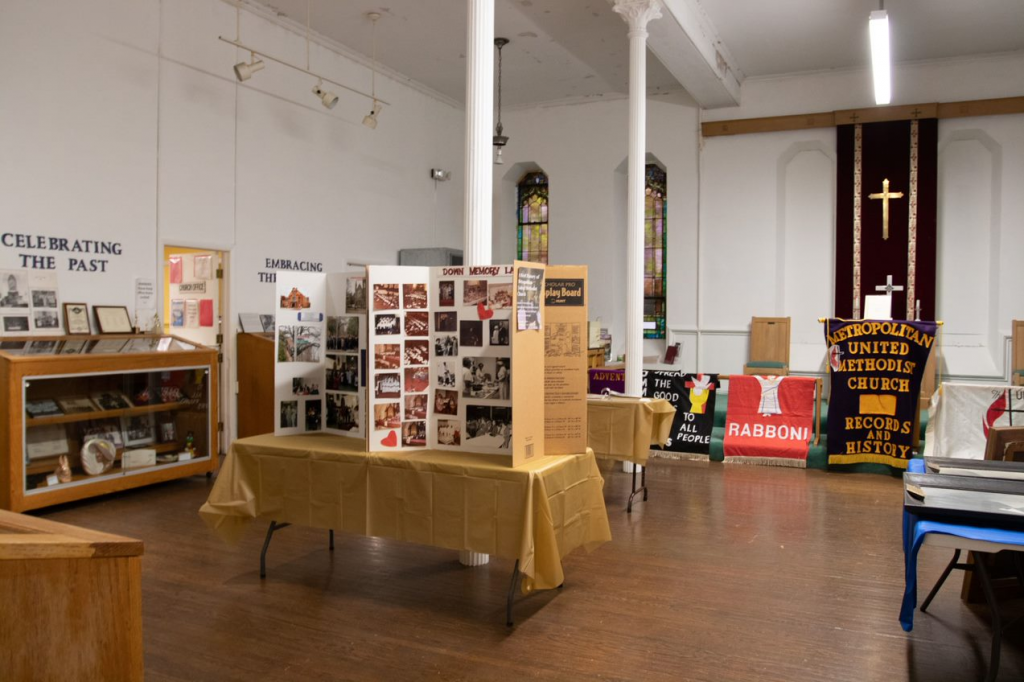 12:40pm
BW: Yes! Black churches in Baltimore are some of the oldest in the country, which a lot of people don't know. I was also amazed at how well some churches have kept up their archives. Union Baptist has an amazing collection of archival material that includes early twentieth century photographs, a bust of the church's most popular pastor, and much more. When we helped the team at Union Baptist with its inventory and rehousing material, we learned so much about the church's history.
12:41pm
DM: Speaking of processing collections, It's sooooooo time consuming. Isn't it?!?! I have such a greater appreciation for archivists.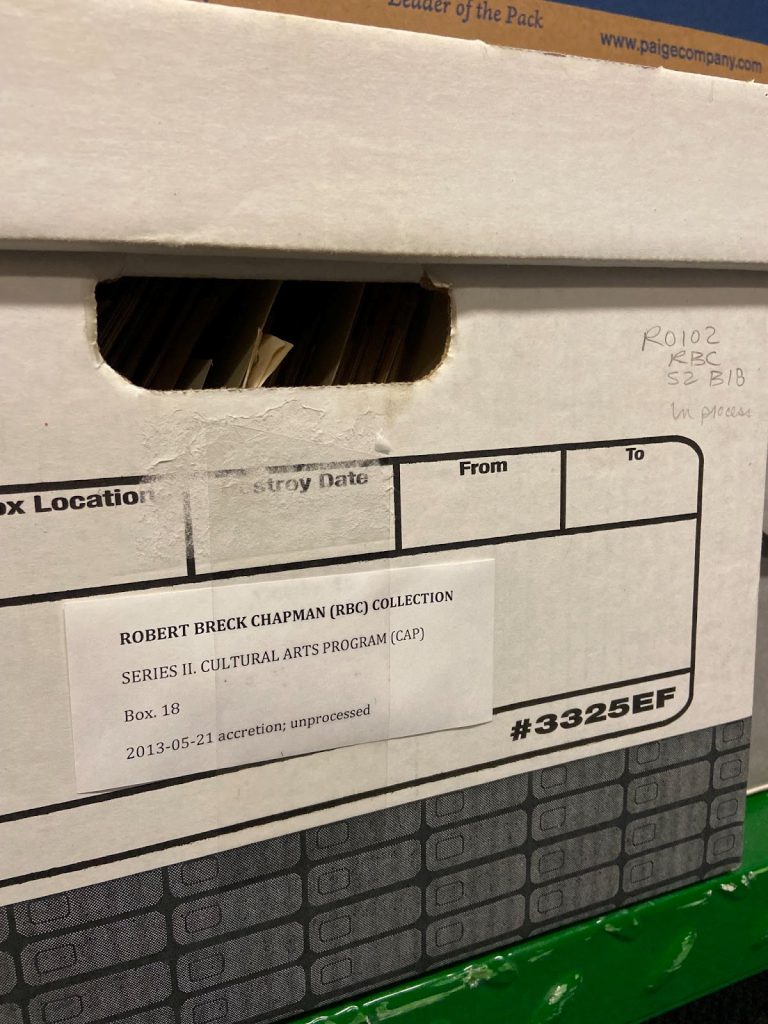 12:48pm
BW: It really is. I now understand just how detailed processing collections is after working with the Robert Breck Chapman (RBC) collection at UB. We spent four months working on just one series of the collection which contained 19 boxes of photographs, contact sheets, negatives, and ephemera. Chapman's work as the photographer for Baltimore's Cultural Arts Program left him with a massive collection of material. We went through each box, processing the collection at the box level then the folder level, and finally, rehousing the material into archival sleeves and new boxes. 
12:54pm
DM: I remember. IT WAS A HOT MESS! I know for a fact we rehoused more than 3000 negative slides. At first processing seems meticulous and unnecessary; but it works. Laura Bell was a very great teacher. If we hadn't retrieved the notes from the boxes or labeled material from inside we would not have metadata, be familiarized with the collection, or have a good strategy for how to organize it moving forward.
As we've been processing, has anything in this collection or another caught your eye or stood out?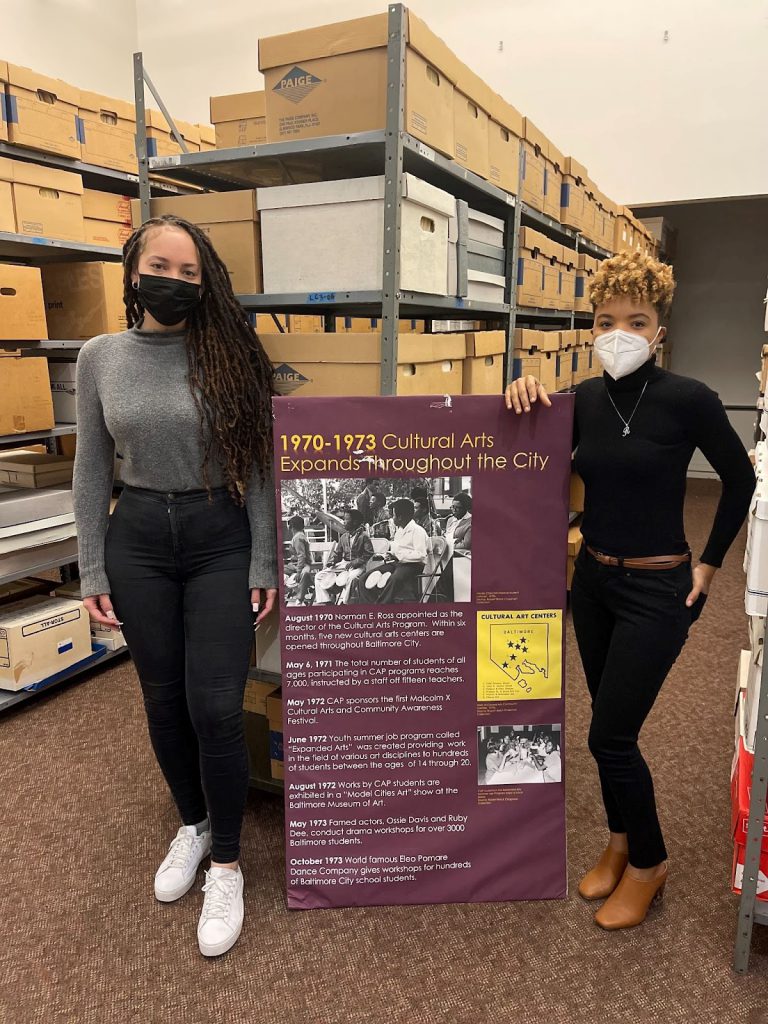 12:59pm
BW: Yes, definitely! I love the photos in the RBC collection because Chapman didn't just capture the cultural arts in Baltimore, he also photographed black children playing in their neighborhoods, black men and women hanging out with their friends, and black joy in general. His photos portray a different, much more uplifting and positive story of Baltimore than what we see in the media. How about you? What's been your favorite thing within the collections?
1:06pm
DM: As a photographer, I also loved seeing the images Mr. Chapman collected. He didn't just document events but captured emotion in the everyday lives of Black people in Baltimore. But for me, I've been very inspired by the work of Ethel Ennis. Her collection at JHU is also massive. We just started processing it but she has so many recordings. It seems like she recorded weekly – maybe even daily! We are waiting for them to be digitized, but I'm interested to hear her live in concert and hear the banter between her and the band. And as you know, digitizing anything on film is crucial. It begins to deteriorate after 25-30 years.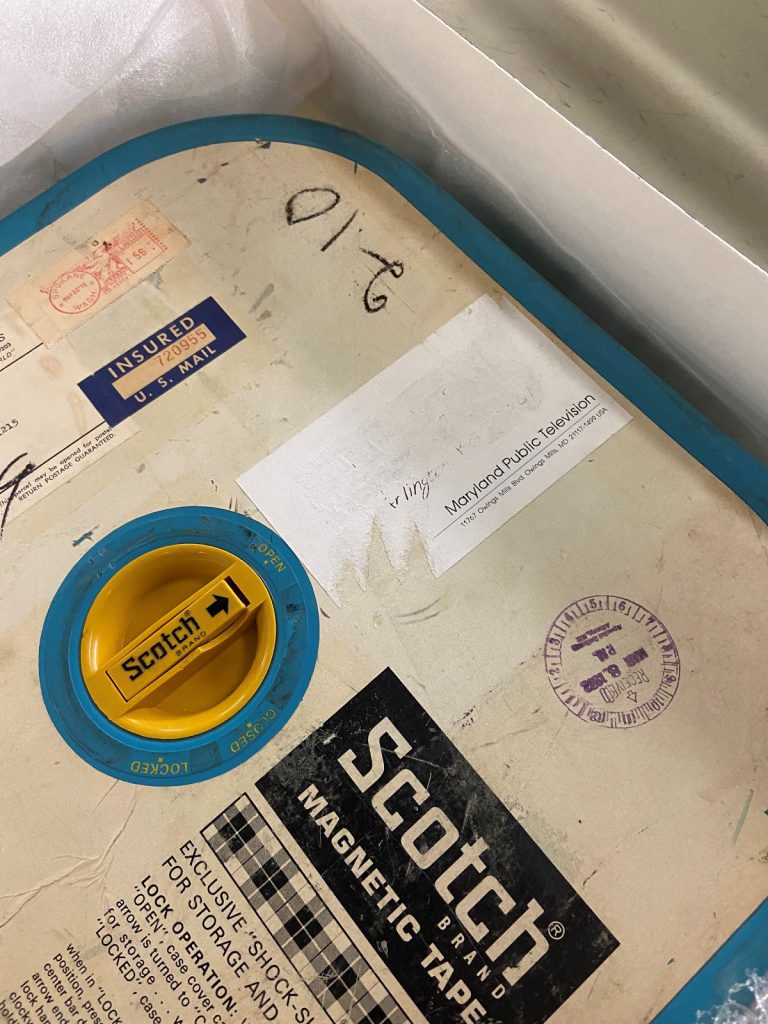 1:13pm
BW: Yes, Ethel Ennis has a vast collection! She was an amazing jazz singer from Baltimore who supported the cultural arts and owned a jazz club here. We are hoping that by processing her collection and providing feedback to the special collections staff at JHU, we will help the library with making its collecting of African American material more intentional and more organized. Isn't it cool how we're also working with community organizations to do the same thing?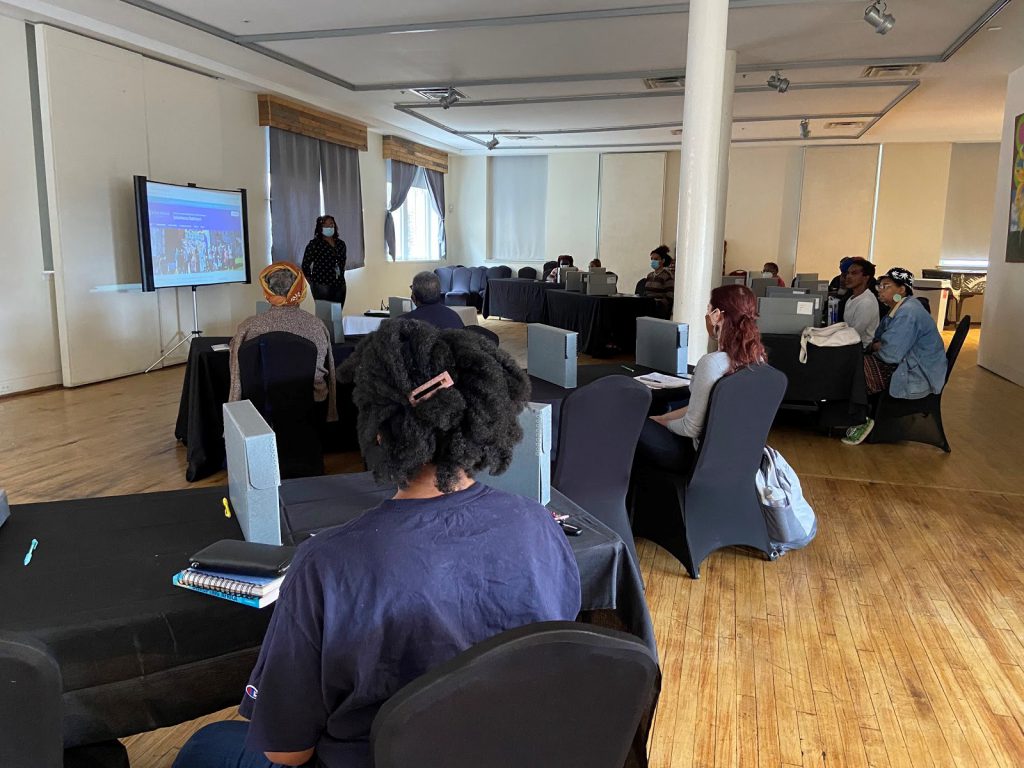 1:18pm
DM: Eubie Blake in particular has been a pillar in the community as a cultural arts institution. It was birthed from the Cultural Arts Program featured in the Robert Breck Chapman Collection. We've been partnering with them as well as other community members already doing this work to help them build a more comprehensive collections policy. This will allow them to have a focus for their collections as well as a guideline for new acquisitions or donations. A collections policy is necessary, you know? You can't just take anything if it doesn't fit with the mission.
You know, many times communities of color are apprehensive about partnering with institutions, like JHU or UB because of their abuse of power. What would you say to community members or students who ask about the ethics of our work in Baltimore City?
1:23pm
BW:  I would say that I completely understand that apprehension given the history of communities working with institutions and institutions taking from communities. But, the great thing about this project with Inheritance Baltimore is that we are not taking anything from the community. We are literally here to assist and advise the community members and partners on their needs individually. We are providing them with resources, materials, and labor as they need it. We are also open about the work they have done themselves, as we are not interested in taking credit for the work they have done. We focus heavily on ethics and we are actively trying to change the relationship between Baltimore community members/organizations and institutions for the better.
1:31pm
DM: I'm really excited to see what we do next year. I can't wait to start researching more and creating exhibits. What about you?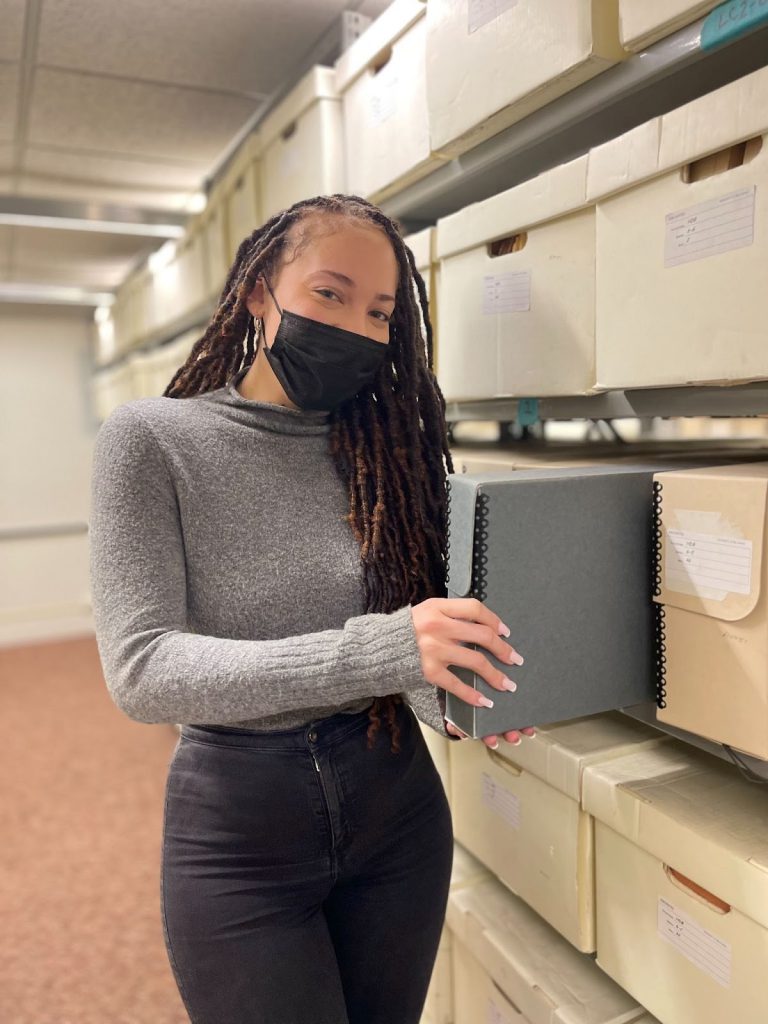 1:36pm
BW: I'm looking forward to continuing to work with community members and organizations on their archival processing needs. I am also excited to hold more workshops this year. We had a great turn out for the cultural arts workshops we held at the Eubie Blake Center in October, so I can't wait to discuss our goals with more community members next year. We also plan to hold several oral history workshops next year in Baltimore which will help us connect with different audiences to discuss their needs. Finally, I am thrilled about exhibiting the work that we are processing in the Robert Breck Chapman and Ethel Ennis collections. We have already been planning some exhibits for Baltimore museums but I am excited that this work will be made public for the community to see. 2022 is going to be a busy year!
1:38pm
DM: It definitely will be. I'm excited about the work we will do in the program next year as well as who our future community partners may be. Maybe the State Archives? The work that the IB program is doing is so crucial to preserving Black history and untold stories in Baltimore. I'm just honored to be a part of it.