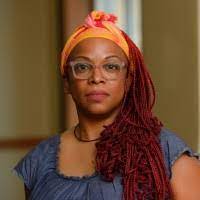 We're pleased and excited to announce Angela Koukoui has been appointment as our Outreach & Engagement Librarian. Working collaboratively with all areas of the RLB Library, Angela will develop, implement, and assess a variety of efforts both in-person and online in order to more fully showcase our rich array of resources, services, and programs to the UBalt community. And building upon the work she has been doing in Special Collections & Archives, Angela will maintain existing partnerships and explore new contacts with the Baltimore community to advance outreach opportunities that increase the awareness of our local history collections.


Well-connected to the cultural arts community in Baltimore, Angela brings a wealth of experience to this position including her most recent work establishing a community archives program. A UBalt alum, Angela received her B.A. degree in Integrated Arts, Arts Management and in August 2021 received her M.S. in Library and Information Science from the University of Maryland.



Please join me in congratulating Angela as our Outreach & Engagement Librarian!