Just in time for summer reading! Check out this selection of ebooks recently acquired by the RLB Library.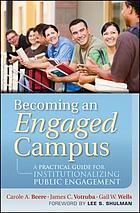 Becoming an Engaged Campus: a Practical Guide for Institutionalizing Public Engagement (2011) by Carole A. Beere, James C. Votruba, and Gail W. Wells.
"There is a trend to have universities make a stronger commitment to community engagement. This book offers a how-to resource for campus leaders who want to take a strategic approach to creating change within the university and in relation to the community. It emphasizes what to do to expand community engagement at the university, and explains how to minimize the risks that can accompany this work. The authors provide a clear path to creating an engaged university and institutionalizing change so that it becomes integrated into the fabric of the university"– Provided by publisher.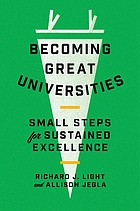 Becoming Great Universities: Small Steps for Sustained Excellence (2022) by Richard J. Light and Allison Jegla.
"How campus communities of every kind can transform themselves from good to great Becoming Great Universities highlights ten core challenges that all colleges and universities face and offers practical steps that everyone on campus-from presidents to first-year undergraduates-can take to enhance student life and learning.This incisive book, written in a friendly and engaging style, draws on conversations with presidents, deans, and staff at hundreds of campuses across the country as well as scores of in-depth interviews with students and faculty. Providing suggestions that all members of a campus community can implement, Richard Light and Allison Jegla cover topics such as how to build a culture of innovation on campus, how to improve learning outcomes through experimentation, how to help students from under-resourced high schools succeed in college, and how to attract students from rural areas who may not be considering colleges far from their communities. They offer concrete ways to facilitate constructive interactions among students from different backgrounds, create opportunities for lifelong learning and engagement, and inspire students to think globally. Most of the ideas presented in this book can be implemented at little to no cost.Featuring a wealth of evidence-based examples, Becoming Great Universities offers actionable suggestions for everyone to have a positive impact on college life regardless of whether their campus is urban or rural, private or public, wealthy or not, large or small"– Provided by publisher.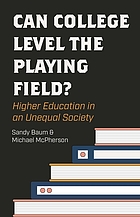 Can College Level the Playing Field?: Higher Education in an Unequal Society (2022) by Sandy Baum and Michael S. McPherson.
"Why higher education is not a silver bullet for eradicating economic inequality and social injustice. We often think that a college degree will open doors to opportunity regardless of one's background or upbringing. In this eye-opening book, two of today's leading economists argue that higher education alone cannot overcome the lasting effects of inequality that continue to plague us, and offer sensible solutions for building a more just and equitable society. Sandy Baum and Michael McPherson document the starkly different educational and social environments in which children of different races and economic backgrounds grow up, and explain why social equity requires sustained efforts to provide the broadest possible access to high-quality early childhood and k-12 education. They dismiss panaceas like eliminating college tuition and replacing the classroom experience with online education, revealing why they fail to provide better education for those who need it most, and discuss how wages in our dysfunctional labor market are sharply skewed toward the highly educated. Baum and McPherson argue that greater investment in the postsecondary institutions that educate most low-income and marginalized students will have a bigger impact than just getting more students from these backgrounds into the most prestigious colleges and universities.While the need for reform extends far beyond our colleges and universities, there is much that both academic and government leaders can do to mitigate the worst consequences of America's deeply seated inequalities. This book shows how we can address the root causes of social injustice and level the playing field for students and families before, during, and after college"– Provided by publisher.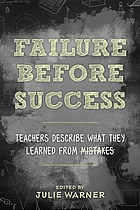 Failure Before Success: Teachers Describe What They Learned From Mistakes (2021) by Julie Warner.
Failure Before Success tells the stories of how some of the most accomplished in the field got it wrong and turned their mistakes into their greatest lessons on teaching excellence.
The History of Jazz (2011) by Ted Gioia.
"Ted Gioia's History of Jazz has been universally hailed as a classic–acclaimed by jazz critics and fans around the world. Now Gioia brings his magnificent work completely up-to-date, drawing on the latest research and revisiting virtually every aspect of the music, past and present. Gioia tells the story of jazz as it had never been told before, in a book that brilliantly portrays the legendary jazz players, the breakthrough styles, and the world in which it evolved. Here are the giants of jazz and the great moments of jazz history–Jelly Roll Morton, Louis Armstrong, Duke Ellington at the Cotton Club, cool jazz greats such as Gerry Mulligan, Stan Getz, and Lester Young, Charlie Parker and Dizzy Gillespie's advocacy of modern jazz in the 1940s, Miles Davis's 1955 performance at the Newport Jazz Festival, Ornette Coleman's experiments with atonality, Pat Metheny's visionary extension of jazz-rock fusion, the contemporary sounds of Wynton Marsalis, and the post-modernists of the current day. Gioia provides the reader with lively portraits of these and many other great musicians, intertwined with vibrant commentary on the music they created. He also evokes the many worlds of jazz, taking the reader to the swamp lands of the Mississippi Delta, the bawdy houses of New Orleans, the rent parties of Harlem, the speakeasies of Chicago during the Jazz Age, the after hours spots of corrupt Kansas city, the Cotton Club, the Savoy, and the other locales where the history of jazz was made. And as he traces the spread of this protean form, Gioia provides much insight into the social context in which the music was born"–Provided by publisher.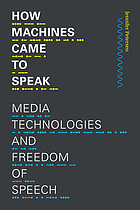 How Machines Came to Speak: Media Technologies and Freedom of Speech (2022) by Jennifer Petersen.
"How Machines Came to Speak argues that the development of new media technologies-from the phonograph, film, and radio in the early twentieth century to computer code and algorithms today-has been integral to legal conceptions of free speech in the U.S. Traditional histories of free speech and the First Amendment focus on court cases with clear moral and political stakes in regulating speech, including cases that established worker picketing, criticism of war, and freedom of the press as aspects of free speech. Yet, according to Jennifer Petersen, the outcomes of these cases have often been determined by earlier legal precedent around how we define speech itself. Offering what she calls "a media history of free speech," Petersen shows that over the course of the twentieth century, the Supreme Court's definition of speech grew to include everything from symbols and gestures (like saluting the flag) to messages without a clear speaker (like opinions broadcast over the radio) to corporate messages (like commercials and donations). As algorithms increasingly determine which news and culture we consume, Petersen argues that technology and discourse on communication are still central to how the Courts conceptualize free speech, and legal decisions concerning the parameters of speech are bound up in concerns about the constitution of personhood that have been shaped and reshaped by the role of technology as a mediator of social relations and identity"– Provided by publisher.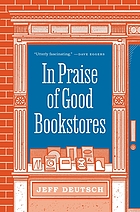 In Praise of Good Bookstores (2022) by Jeff Deutsch.
"Books, even obscure ones, are readily available online in the age of digital retail. As bookstores attempt to find their identity in a new era, some have survived by selling everything from toys to socks, coffee to stationery. In this short book, Jeff Deutsch, the director of the Seminary Co-op Bookstores in Chicago, aims to make the case for the value of spaces devoted to books and the value of the time spent browsing their stacks. It is a defense of serious bookstores, but more importantly it is a paean to the spaces that support them; the experience of readers as they engage with the books, the stacks, and each other; and the particular community created by the presence of such an institution. Drawing on his lifelong experience as a bookseller and his particular experience at Sem Co-op, Deutsch aims, in a series of brief essays, to consider how concepts like space, time, abundance, measure, community, and reverence find expression in a good bookstore, and to show some ways in which the importance of the bookstore is both urgent and enduring"– Provided by publisher.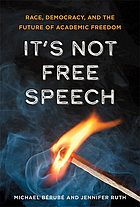 It's Not Free Speech: Race, Democracy, and the Future of Academic Freedom (2022) by Michael Berube and Jennifer Ruth.
"This books takes up the hot-button issues at the intersection of free speech, hate speech, and academic freedom on the contemporary college campus. It questions whether scholarship and "extramural" speech that is deemed racist, homophobic, or sexist should be exempt from the protections of academic freedom and sanctioned on campus"– Provided by publisher.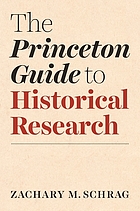 The Princeton Guide to Historical Research (2021) by Zachary M. Schrag.
The Princeton Guide to Historical Research provides students, scholars, and professionals with the skills they need to practice the historian's craft in the digital age, while never losing sight of the fundamental values and techniques that have defined historical scholarship for centuries. Zachary Schrag begins by explaining how to ask good questions and then guides readers step-by-step through all phases of historical research, from narrowing a topic and locating sources to taking notes, crafting a narrative, and connecting one's work to existing scholarship. He shows how researchers extract knowledge from the widest range of sources, such as government documents, newspapers, unpublished manuscripts, images, interviews, and datasets. He demonstrates how to use archives and libraries, read sources critically, present claims supported by evidence, tell compelling stories, and much more. Featuring a wealth of examples that illustrate the methods used by seasoned experts, The Princeton Guide to Historical Research reveals that, however varied the subject matter and sources, historians share basic tools in their quest to understand people and the choices they made"– Provided by publisher.
Subversive Habits: Black Catholic Nuns in the Long African American Freedom Struggle (2022) by Shannen Dee Williams.
"In this groundbreaking study, Shannen Dee Williams offers the first full historical treatment of Black Catholic sisters in the United States. Drawing upon a host of untapped sources, including previously sealed church records and oral histories, Subversive Habits recovers Black sisters' lives and labors as pioneering Black religious leaders, educators, healthcare professionals, desegregation foot soldiers, Black power activists, and womanist theologians. This book also turns attention to female religious life in the Roman Catholic Church as a stronghold of white supremacy and racial segregation-and in turn an important battleground of the long African American freedom struggle"– Provided by publisher.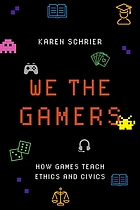 We the Gamers: How Games Teach Ethics and Civics (2021) by Karen Schrier.
"The world is in crisis. We, the people of the world, are all connected. We rely on each other to make ethical decisions and to solve thorny civic problems, together. Ethics and civics have always mattered, but perhaps now more than ever, we are starting to realize how much they matter. Teaching ethics and civics is essential to our future. This book argues that games can encourage the practice of ethics and civics. They help us to connect, deliberate, and reflect. They help us to flourish. They help us to reimagine our world. Games are communities and public spheres. Like all communities, they may support care, understanding, and problem solving. And, they may also incite hate, disinformation, and toxicity. Games reveal humanity's compassion as well as its cruelty. Games reveal our complexity. We the Gamers provides research-based perspectives related to why and how we should play, make, and use games in ethics, civics, character, and social studies education. This book systematically evaluates how to use games in classrooms, remote learning environments, and other educational settings, with consideration to different audiences and standards. This book also provides tips and guidelines, as well as timely resources, examples, and case studies. It includes examples of all different types of games-virtual reality, mobile, card games, and computer games, big budget commercial games, indie games, and more"– Provided by publisher.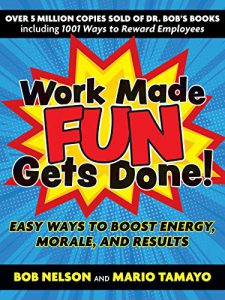 Work Made Fun Gets Done!: Easy Ways to Boost Energy, Morale, and Results (2021) by Bob Nelson and Felix Mario Tamayo.
Bob Nelson, author of the multimillion-copy bestseller 1001 Ways to Reward Employees , and human performance expert Mario Tamayo offer hundreds of practical, creative tips for helping employees — and their managers — make work more fun. According to the employees that work for firms listed in Fortune 's "100 Best Companies to Work for in America," the most defining characteristic of these organizations is they are all "fun" places to work. Fun is the secret sauce every business needs to better engage and motivate its employees today. Work Made Fun Gets Done! gives readers simple, practical ideas for instantly bringing fun into their work and workplace. Based on examples from scores of companies like Zoom, Pinterest, Bank of America, Zappos, Honda, Microsoft, and many more, this book provides clear examples of exactly what managers and employees alike can do to lighten the tone in the work environment and allow employees to have more fun at work. From AAA's "Dump a Dog" program where workers can pass their least-wanted project on to their manager and Houzz's complimentary office slippers to CARFAX's themed-wardrobe Zoom meetings and Google's company-approved Nerf-gun battles and paper airplane contests, you'll find dozens of ideas you can immediately adapt and implement in your own workplace. Work and fun have typically been considered polar opposites, but this book proves they can be integrated in ways that produce more motivated workers — and exceptional results."– Provided by Freading.
Questions? Please contact Debbie Li at dli@ubalt.edu.