Relax during the winter break with movies licensed by the RLB Library (some of which are not on Netflix)! Here are a few critically acclaimed titles you can watch:
The 12 o'clock boys are a notorious urban dirt bike pack in Baltimore — popping wheelies and weaving at excessive speeds through traffic, the group impressively evades the hamstrung police. In Lotfy Nathan's wild, dynamic documentary (three years in the making), their stunning antics are envisioned through the eyes of young adolescent Pug – a bright kid from the Westside obsessed with the riders and willing to do anything to join their ranks.
Premiering to critical acclaim at the SXSW and Hot Docs Film Festivals (where Nathan won the HBO Emerging Artist Award), 12 O'Clock Boys provides a compelling and intimate personal story of a young boy and his dangerous, thrilling dream.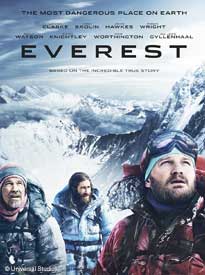 In this adventure docudrama set in 1996, several groups of climbers successfully scale Mount Everest, only to be faced with tragedy when a monster snowstorm surprises them as they attempt to make their descent.
This critically acclaimed Oscar-winning film (Best Foreign Language Film, 2006) is the erotic, emotionally charged experience Lisa Schwarzbaum (Entertainment Weekly) calls "a nail-biter of a thriller!" Before the collapse of the Berlin Wall, East Germany's population was closely monitored by the State Secret Police (Stasi). Only a few citizens above suspicion, like renowned pro-Socialist playwright Georg Dreyman, were permitted to lead private lives. But when a corrupt government official falls for Georg's stunning actress-girlfriend, Christa, an ambitious Stasi policeman is ordered to bug the writer's apartment to gain incriminating evidence against the rival. Now, what the officer discovers is about to dramatically change their lives – as well as his – in this seductive political thriller Peter Travers (Rolling Stone) proclaims is "the best kind of movie: one you can't get out of your head."
Greed and class discrimination threaten the relationship between the wealthy Park family and the destitute Kim clan in Bong Joon Ho's darkly hilarious modern fairytale.
Winner of Best Picture, Best Director, Best Original Screenplay, and Best International Film at the Academy Awards. Winner of Best Foreign Motion Picture – Foreign Language at the Golden Globe Awards. Winner of the Palme d'Or at the Cannes Film Festival.
In addition, the RLB Library has a subscription to over 8000 titles on Kanopy that UBalt faculty, staff, and students can watch for free. Check out this library guide for more information on streaming video licensed by the library.