In the ongoing debate about whether AI language models like ChatGPT should be feared or embraced, RLB Library is choosing the latter. This semester, our writing consultants, tutors, and librarians are training on thousands of ChatGPT transcripts to learn how to write in AI style. We have been writing countless essays and submitting them to the AI detection service GPTZero to see how close we were getting. Using feedback from GPT Zero reports and resubmitting multiple drafts, our ChatRLB consultants have been able to hone their writing style so that it lacks any detectable trace of humanity. We will be sharing what we have learned with students when we roll out a series of ChatRLB writing workshops in Fall 2023.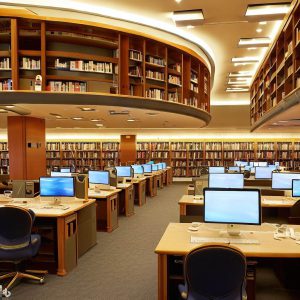 Once students learn our ChatRLB style, they will find it a real time saver. Students will be able to write essays that exude confidence without having to research facts. ChatRLB consultants have even learned to create citations that look like they are in an accepted format, but contain fake information. Just like the current version of ChatGPT! Our reference librarians have trained extensively in various citation styles like MLA, APA and Chicago, among others, so our services can focus on helping students craft plausible citations instead of wasting time trying to find relevant information.
 "Our goal is to prepare our students for the real world," wrote ChatGPT in response to my prompt to write something for this blog post. "And in the real world, whether you're writing an email, a blog post, or a social media update, you need to be able to get your message across quickly and clearly. There's no better model for that than ChatGPT." Plus, when the machines take over the world, humans are going to need to be able to communicate without being detected. Students who have taken our workshops will be way ahead of the game.
Keep an eye on the RLB workshops page to see when the new ChatRLB writing workshops will be offered.
For a non-April Fool's Day version of how The University of Baltimore is thinking about ChapGPT, read this interview with our Director of Teaching and Learning Excellence, Dr. Jessica Stansbury.