As we are all teleworking, learning from home, working from home, etc. due to the COVID-19 pandemic, the RLB Library hopes you are able to continue reading and learning about your interests. We are continuing our What Are You Reading? blog series to share a few new titles and reading ideas! 
The What Are You Reading? blog series highlights books recommended by the RLB Library staff. Follow the blog to learn what we are all reading and find ideas for your next page-turner!
We hope you enjoy reading Sarah's thoughts on a few of her recent reading adventures in her own words:
Name: Sarah Burns Gilchrist, Reference and Instruction Librarian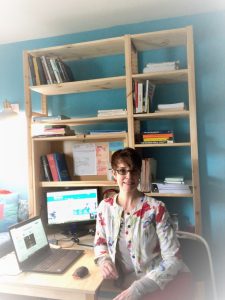 What have you been reading? The Design of Everyday Things by Donald Norman; The Body Keeps the Score by Bessel Van der Kolk; and The Sun Literary Magazine
Why did you choose these books and magazine?
A friend told me about The Body Keeps the Score after I mentioned that I was taking a class on Humans, Computers, and Cognition (IDIA 640). My professor for IDIA 640, Dr. Kathryn Summers, recommended The Design of Everyday Things as a supplement to our course work. I've been a Sun Literary Magazine subscriber for many years and I enjoy their short stories, poems, interviews and reader recollections.
Impressions:
I'm slowly working my way through the two books. Each one presents information that I need time to process and contextualize. I'm fascinated by the human brain and by the complexity of seemingly banal decisions. The Design of Everyday Things explains why people can't figure out how to open my glass office door in the RLB Library. The Body Keeps the Score helps me see how trauma-informed practice can only begin to accommodate the diversity of human experiences. The Sun is my guilty pleasure; I read it whenever I can find time for myself.
How does this compare with what you typically read? 
I'm a literature buff at heart; I get caught up much more easily in narrative than nonfiction. These two nonfiction books are challenging me to read differently. Long-form reading has really slipped out of my practice, so I try to find a whole hour to read these books. I've been interrupted during those hours, so my record for long-form reading is still under an hour. Hopefully, with practice, I'll be able to finish a whole book soon. Short stories and poetry feed my need for human narrative; The Sun delivers those in manageable doses.
Thanks for sharing your recent reads, Sarah!
Looking for your next book? Remember, RLB Library offers e-books, databases, and more for the UB community that are easily accessible online. Learn more about our e-books with this LibGuide!