In archives and libraries "the stacks" refers to the many resources held by a repository for students and researchers to use. Librarians, archivists, and others work hard to preserve and make these resources and collections accessible and to create a welcoming environment for students and researchers. As the school year progresses, A Look Behind the Stacks continues highlighting the people and work behind the UB RLB Library and the Special Collections & Archives. Follow our blog to Meet the Library and to learn more about our library work behind the stacks!
We're excited to introduce Mary McKinley in her own words:
Name: Mary McKinley
Role in the Library: Special Collections & Archives Intern with a focus on curating a digital exhibit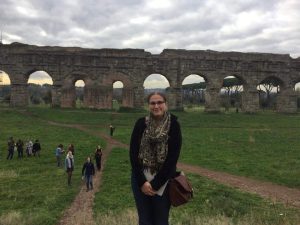 Educational Background: I earned my Bachelor's degree in History and Classical Languages (Latin and Greek) at the College of Wooster in 2019, and I am excited to have earned my Master of Library and Information Science degree at the University of Maryland, College Park as of May 21, 2021.
Previous Experience: I previously participated in the Digital Curation Innovation Center program at the University of Maryland, which is a center focused on the digital humanities and computational archival science using historical collections and data. It was an eye-opening experience to participate in projects that pushed the bounds of what has traditionally been seen as "humanities research" by using statistics and technology to provide new insights. It inspired me to pursue other opportunities that present archival collections in new ways– and so I ended up pursuing this internship in Digital Curation with Special Collections & Archives, and it has been a wonderful learning experience. 
Current Project: During the Spring 2021 semester I curated a digital exhibit about Betty Garman Robinson's activism in Baltimore. I have loved being able to get to understand her history and hopefully present it in a way that honors and details her work in Baltimore and also makes the collection more accessible. 
Favorite Collection: I primarily worked with the Betty Garman Robinson Papers at Special Collections & Archives, and my favorite thing is the variety! She was a part of so very many important issues in Baltimore, and her papers show that passion for helping others. In some ways, personal papers are a collection of puzzle pieces, and I love seeing how all of her varied experiences fit together in ways that are not always evident at first glance. I also loved seeing how her papers connect with other collections in the archives. Items from a few other collections are included in the exhibit.
What have you learned while working here: Being from Ohio, my knowledge of Baltimore history before this project was very limited. This project was a great opportunity to delve into Baltimore history through the prolific activism of a great woman, and I learned so much about the history of Baltimore simply by reading through the collection materials. I have always loved doing primary source research, and this collection provided me with so much insight into Baltimore and the role that community organizing and activists have played in its development. 
Check out Mary's digital exhibit and the archival collection online:
_________________________________________________________
Congratulations on your graduation, Mary!