In archives and libraries "the stacks" refers to the many resources held by a repository for students and researchers to use. Librarians, archivists, and others work hard to preserve and make these resources and collections accessible and to create a welcoming environment for students and researchers. As the school year progresses, A Look Behind the Stacks continues highlighting the people and work behind the UB RLB Library and the Special Collections & Archives. Follow our blog to Meet the Library and to learn more about our library work behind the stacks!
We're excited to introduce Thomas Dettling, Special Collections & Archives Student Worker! We hope you enjoy learning about Tom in his own words:
Name: Thomas Dettling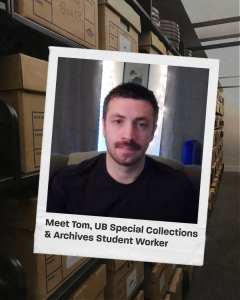 Role in the Library: Archives & Special Collections Student Employee working to promote the archives through social media and blog writing.
Educational Background: Currently studying Simulation & Game Design, with a minor in Creative Writing.
Previous Experience: I have been working in this position since the beginning of February. Having access to the digital exhibits has been a real treat. As someone who loves to study and learn about history, I relished the opportunity to contribute to the mission of preserving and exhibiting the extensive collections that UB Special Collections & Archives has online.
Favorite Collection: One of my favorite aspects of this position has been looking through previous issues of Welter, UB's own literary publication. It's interesting to see how the different eras in time inform the poetry and prose of the writers, and maybe even more interesting, are the universal themes that transcend the time in which they were written.
Current Project: Most recently I have begun exploring the video archives, in particular the digital exhibit featuring Footage from Maryland's Eastern Shore from WMAR-TV for a potential blog post.
Favorite Experience in the Library: Exploring the various UB publications has been particularly exciting, as some of the student newspapers and yearbooks date as far back as the 1920's and 30's. Being able to access them has felt like an opportunity to travel back in time.
What have you learned while working here: Working with these collections and digital exhibits has reinforced to me the importance of preserving our past. Our online collections, which contain UB specific digital exhibits as well as those featuring the City of Baltimore, provide us with a way to examine how the culture of both has been informed by our past.
_____________________________________________________
Tom Dettling wrote this blog post.